Creating a professional and functional real estate website isn't as difficult as you might think. In fact, if you have the right resources and tools at your disposal, it can be a surprisingly simple task.
A professional real estate website can help you attract quality leads and simplify your sales process, which can help you grow your business significantly.
In this guide, we'll go over real estate website features, costs, and some handy tips.
Must-Have Real Estate Website Features
The complexity of your website is determined by the goals you've set for it. Of course, if you want to build a massive aggregator, it will be more complicated than a simple website for a small local reality. Nonetheless, we will list the real estate website features that you should consider when developing your website: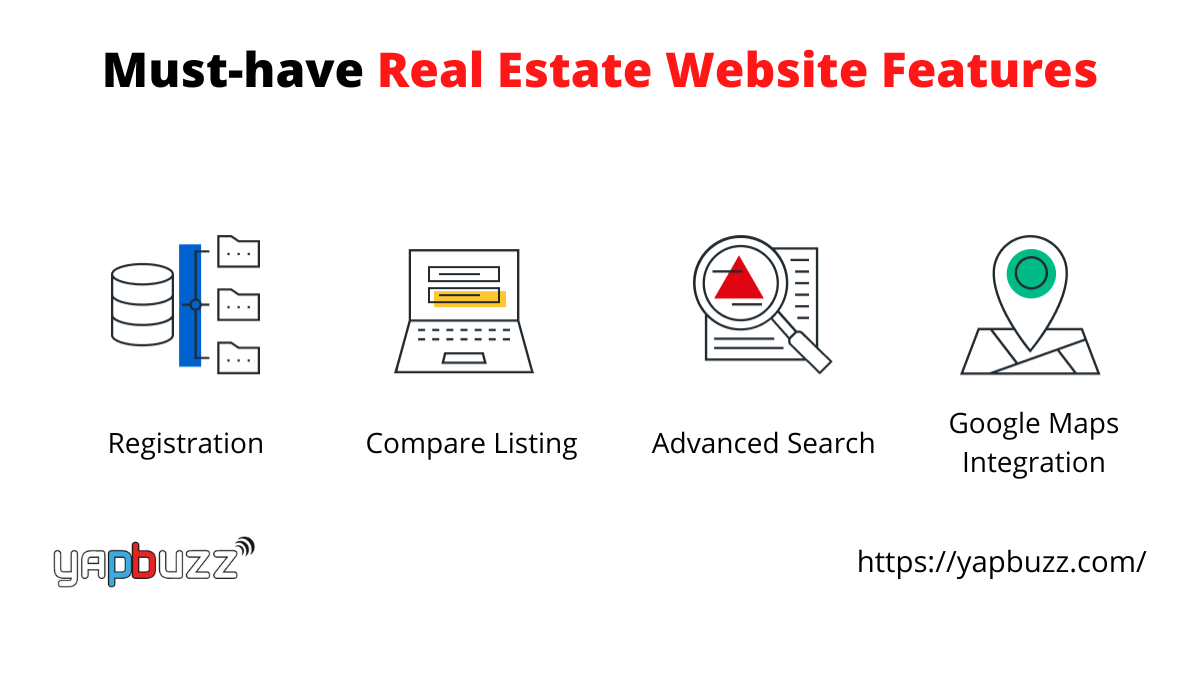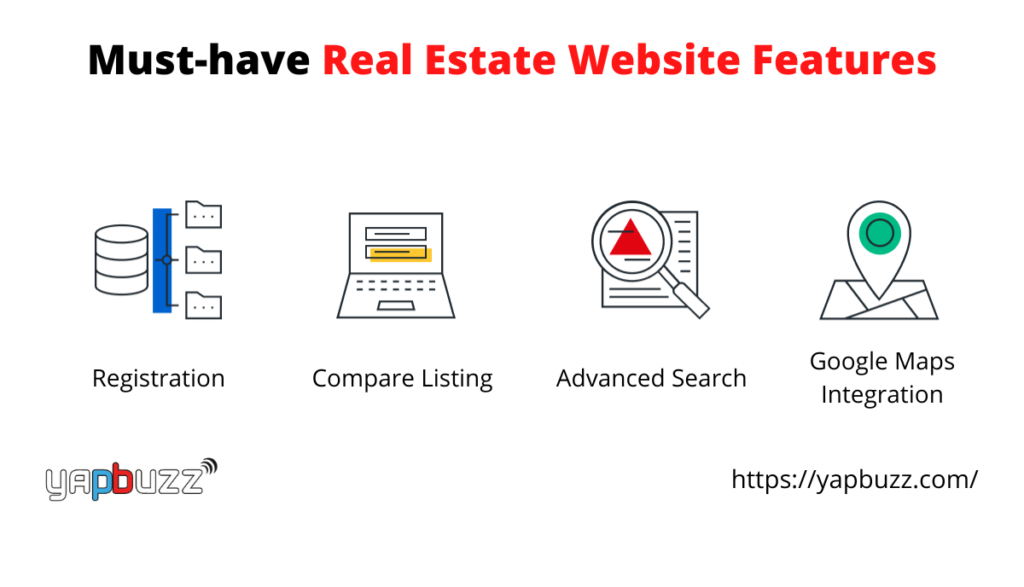 Registration
Allows users to register on the website by providing some personal information such as their name, age, contact information, and so on.
Integration of Social Media
Allow users to sign in using their social media credentials and share different property listings with their friends and family.
Advanced Search
Allow users to search for properties using a variety of filters such as budget, area, locality, and more.
Compare Listing
Allow users to compare multiple properties at once in order to make a more informed purchase decision.
Listing Detail Pages
Allow users to learn more about a specific property and the amenities available in the neighborhood.
Google Maps Integration
Allow users to get a sense of the property's location and directions to the location in the event of a site visit.
Email Alerts Features
Allow users to be notified of updates to their selected property and when it becomes available.
Mortgage Calculators
Allow users to get an idea of a property's mortgage estimate so that they can plan better.
Live Chat and Messaging
Allow users to contact the property owner or agent if they have any questions about the listing of a property.
Virtual Reality Tours
Allow users to virtually visit the property and get a sense of the look and feel of the listed property.
Ratings and Reviews
Allow users to rate and review various properties on their listing so that others can make better decisions.
Payment Gateways
Payment Gateways allow users to easily pay for things like booking fees, consultation fees, and more on your web portal.
Real Estate Website Price
The real estate website cost is heavily influenced by a variety of factors such as the hosting provider, features, security plans, platform, UI/UX designs, third-party integrations, maintenance, and so on. An enterprise-level custom website, on the other hand, will cost between $1,000 and $30,000.
Tips To Build The Best Real Estate Website
Record Analytics and Track Visitor Data
Whether you are a small or large player in the real estate industry, gathering information about your visitors will undoubtedly benefit you. Depending on your budget and human resources, the importance of this component of your marketing strategy may vary.
Include Internal Searching And Filtering Capabilities
When your prospect is looking for a home, they always have a set of criteria in mind. Show the visitor that you can target their needs and present properties that correspond to what they are looking for as soon as they arrive at your site.
Design For Mobile Devices First
The mobile design will be critical to the impact of your real estate website design, whether it's developing a complex search page or a mobile real estate property tour where users can thumb through photos of a property.
Devote A Page To Each Region
When it comes to purchasing a home, the choice of a neighborhood is critical. Make a page for each region, neighborhood, or even school district where you sell or rent real estate. Enter useful and important information about the region. Always include a map that shows each of your properties as well as other points of interest.
Start a Newsletter
The value of a newsletter cannot be overstated. Consider your newsletter as a way to push your website to potential buyers or clients, providing them with valuable advice and regional resources while maintaining credibility and trust.
Start a Real Estate Blog
Sharing personal stories, home-buying tips, regional businesses you like, new restaurant openings, school, and local tax information... all of these things increase your authority and relationship with your subscribers. While you may not have met them, a blog allows them to get to know you as a leader they can trust within the community you're selling to.
Conclusion
As you can see, there is a lot that goes into developing a real estate website. The good news is that developing a website for your real estate company does not have to be difficult.
With an expert website design and development company like YapBuzz, our experienced professionals can create a real estate website with all the features you need to sell more through your real estate listings.
Prabal Dey
|
July 18, 2022
Prabal is the founder at YapBuzz. For the past 20 years, he has been working in a diverse field of web and mobile technologies, both for large companies such as McDonald's, Skechers, etc. as well as exciting startups such as Docebo.