iOS app development takes a lot of time, effort, and money. While it is a relief when all of the work from design to development to testing is completed, the job does not end there. The ultimate goal is to successfully upload and submit the app to the app store, where it can be downloaded.
Submitting an app to the Apple store will not be easy, but it will also not be difficult. This blog post will walk you through the process of successfully submitting your iOS app to the app store.
Steps in Detail to Submit an App to the App Store
Step 1: Establish Your Business
You might be surprised if you're wondering how to start a business. Like any other successful business, you'll want to make sure you have a good idea first. From there, you can create a product or service that meets a consumer's need.
However, before you do anything, you should conduct thorough research. This is critical because only 79.4 percent of businesses survive their first year of operation. Read on to know the next steps in order to submit your app to the app store.
Read More: How Mobile Apps Can Help Small Businesses?
Step 2: Request a D-U-N-S Number
D&B may already have assigned your company a free D-U-N-S Number. Before enrolling, check to see if your organization has a D-U-N-S Number. If your business isn't listed, you can submit your information to Dun & Bradstreet for a free D-U-N-S Number.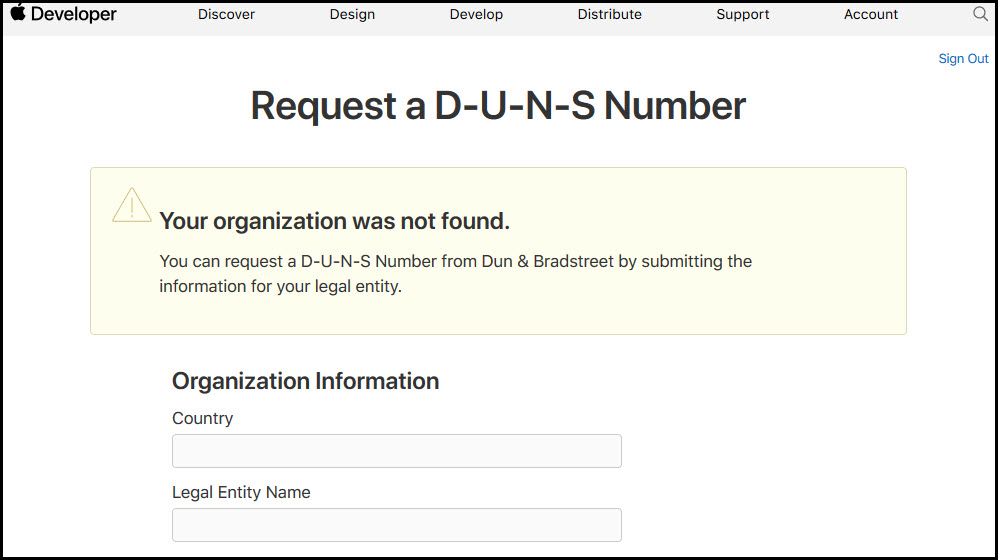 When looking up your organization, you will be asked for the following information:
Legal entity name
Headquarters address
Mailing address
Your work contact information
A D&B representative may contact you directly for additional information as part of the verification process (such as your business type or number of employees). Please bring your business registration documents with you.
Step 3: Receive and Manage Your D-U-N-S Number
Please allow up to 5 business days after requesting a D-U-N-S Number for D&B to respond. This waiting period will not be reduced by hastening the creation of your D-U-N-S Number. Please email D&B if your application has taken longer than two weeks to process.
Please allow up to two business days after receiving your D-U-N-S Number for Apple to receive your information from D&B. After this time, you can join the Apple Developer Program as a company/organization. Email D&B to update your D&B profile. Please keep in mind that D&B may take up to two business days to provide updated information to Apple.
Step 4: Set Up Your iOS Developer Account
Users with an Apple Developer Account can publish and manage iOS apps on the Apple App Store. Enrolling in the Apple Developer Program is the process of creating an Apple Developer Account.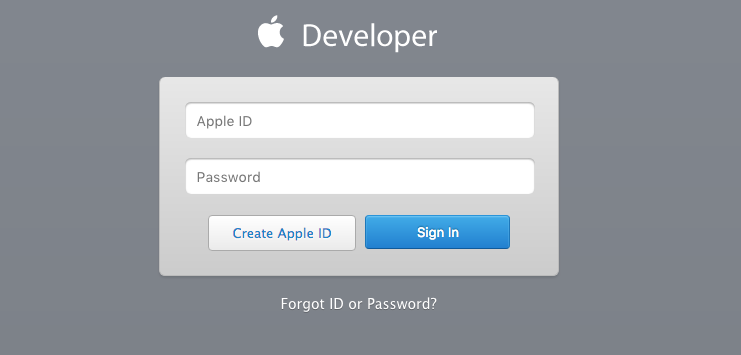 It is an essential tool for configuring app services, submitting new apps, launching updates, and managing all apps. You can select automatic renewal to avoid having to remember to renew your developer account every year.
Read More: Ticket Booking App Development: Key Features and Cost Estimation
Create Apple ID
To create an iOS developer account, you must first have an Apple ID. If you don't already have one, proceed as follows:
Go to https://developer.apple.com/and click on Account
Continue to Create Apple ID and fill out the form.
Enter and save information such as your first and last name, country, birthday, email address, and password.
Complete the security questions and create your Apple ID.
Set-up Two-factor Authentication
The following step is to enable two-factor authentication. We recommend using an Apple device to set up two-factor authentication because it is easier.
Do the following if you have an iPhone or iPad:
Navigate to Settings and then click on your username at the top.
Click on Password and Security
Tap on Two-Factor Authentication
Turn it ON
If you are using an Apple desktop, then go through the following steps:
Open Apple Menu
Select System Preferences
Open iCloud
Open Account Details
Click on Security
Tap on Two-Factor Authentication
Turn it ON
Continue to complete the rest of the process, sign in to your account with your Apple ID and password.
Step 5: Joining the Developer Program
You'll see a link titled "Join the Apple Developer Program" once you've logged in or created a new Apple ID and logged in with it at https://developer.apple.com/.This will take you to a page where Apple describes the developer program in detail. You can read this at your leisure, but when you're ready, click the "Enroll" button.
Step6: Add Developer Account Users and Manage Permissions
You will now be redirected to a page that describes the two different account types and what you need for each. Apple developer accounts are classified into two types:
Enrolling as an Individual
An individual account only allows for the creation of a single primary login to the iOS Developer Account. Furthermore, the developer name that will be made public (on the App Store) will be your first and last names. Sign up for an individual account only if your app is personalized for you.
Enrolling as a Company/Organization
A company/organization account allows for creating and managing multiple user logins, each with varying permissions capabilities. The developer name that will be made public will be the name of your company or organization.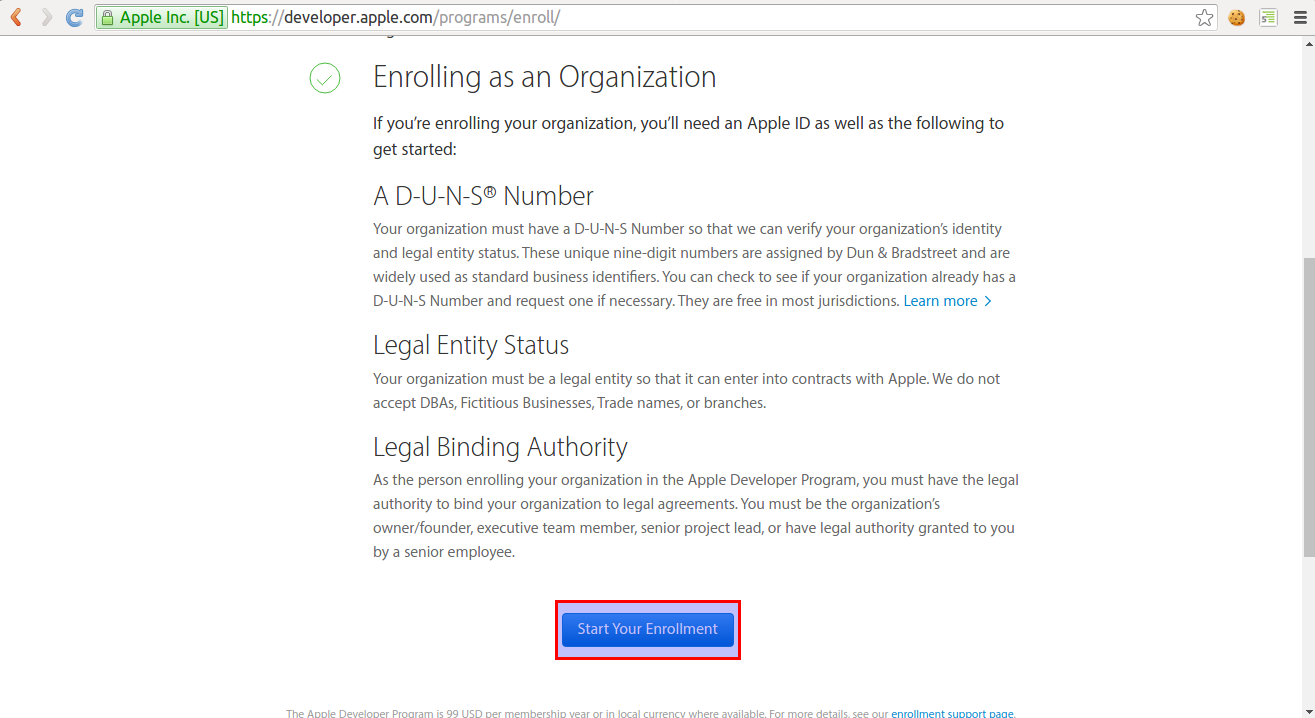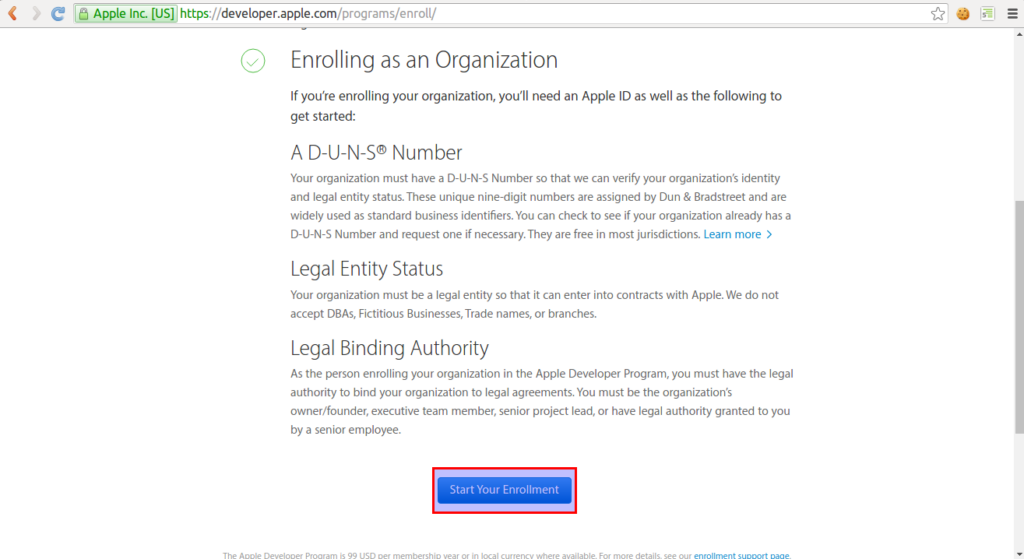 To begin enrolling your business, you'll need an Apple ID as well as the following:
A D-U-N-S Code: Your organization must have a D-U-N-S Number in order for us to verify its identity and legal entity status. Dun & Bradstreet assigns these unique nine-digit numbers, which are widely used as standard business identifiers.
Legal Entity Status: To enter into contracts with Apple, your organization must be a legal entity. DBAs, fictitious companies, trade names, and branches are not permitted.
Legal Binding Authority: As the person enrolling your organization in the Apple Developer Program, you must have the legal authority to bind your organization to legal agreements. You must be the owner/founder of the organization, a member of the executive team, a senior project lead, or have legal authority granted to you by a senior employee.
After reviewing this information, click "Start your enrollment."
Read More: 6 Top Benefits Of iOS Application Development For Business
Step 7: Enter Your Company Information
Following that, you must enter basic information about yourself and your company. This is how it goes:
Verify your email address
Enter Name
Enter Country Location
Select Entity Type or Account (as described above)
To complete the process, click Start Your Enrollment.
The next step is to enter your contact information and agree to the terms of the agreement. The steps are as follows:
Go to the Your Information page and fill out the form as directed.
Enter Legal Name and Phone Number
Enter Business Address with Postal Code
Examine the Apple Developer Program License Agreement.
Check the box and click on Continue
You will be taken to a page where you must verify your account information. Once you're ready, click Continue to move on to the next step.
Read More: How To Publish An Android App On Google Play Store
Step 8: Enter Your Billing Information and Pay
You will be redirected to the billing and payment page once you have entered the information. You must do the following here:
Enter Billing Contact
Enter Billing Address
Set up Payment Method (Debit Card, Credit Card, or PayPal)
View the order total and Continue with the confirmation and payment.
Fill out the required information on the following pages to complete the developer account creation process. Wait for an email from Apple confirming successful account creation (Which usually comes within 24 hours).
Step 9: Let Your Developers Create the Application
Hiring a mobile app development service is the next step. The business owner can hire app developers who can help build fast, modern, and reliable apps that will amaze the users. Furthermore, it is a completely scalable and the most efficient solution for entrepreneurs who have moved beyond the startup phase and are ready for their big breakthrough in the market.
By combining our experience with technology and design, we aim to increase conversions with our customized mobile app development services. We use cutting-edge frameworks and technologies to deliver user-friendly, secure, and innovative business solutions.
Conclusion
The app submission process may appear complicated, but after reading this comprehensive guide, you may have changed your mind.
You simply need to have all of the necessary resources to successfully submit an app to the App Store. As for the development part, YapBuzz is a leading provider of mobile app development services globally. Connect with us today to discuss your requirements.
Prabal Dey
|
July 11, 2022
Prabal is the founder at YapBuzz. For the past 20 years, he has been working in a diverse field of web and mobile technologies, both for large companies such as McDonald's, Skechers, etc. as well as exciting startups such as Docebo.