There is no doubt that on-demand applications are shaping the world around us and booming the on-demand economy market. In today's business environment mobile applications have become more common as it helps businesses to get customers more quickly and retain them in a highly efficient way.
On-demand mobile app services can greatly leverage your business. It offers the clients the opportunity to seek your services in the hour of their need. On-demand mobile apps come with ample features, although you can collaborate with the mobile app development company to get specific features integrated into your app.
Benefits Of On-demand App Services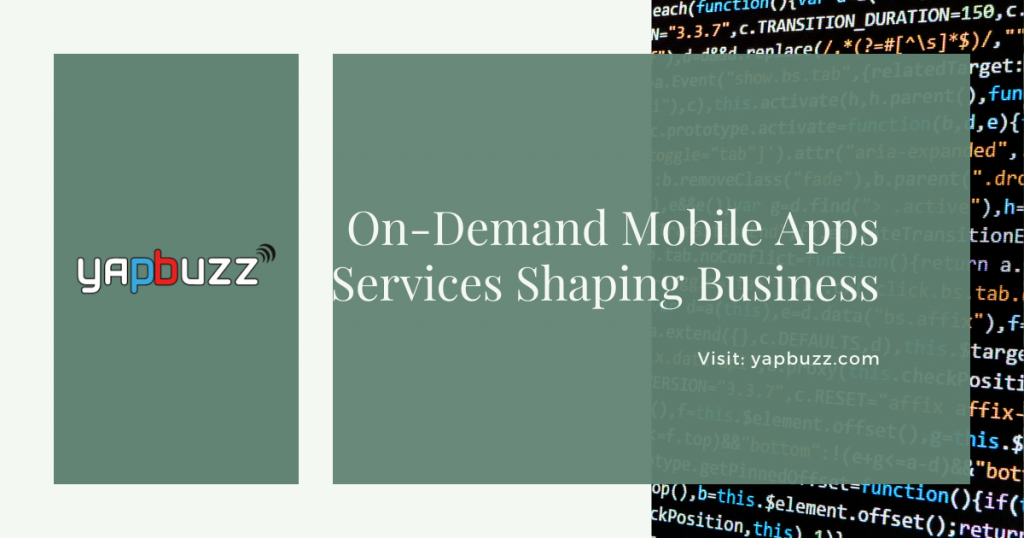 Have a look at the potential benefits that your business can reap from on-demand app services.
Scalability & Security
As per your consumer demands, you can scale easily. The online payment method, for example, will help the restaurant owner to serve their customers on time and without long queue hurdles through secure payment and improved scalability. Consumer and their demand need changes over time. On-demand apps are in demand because its easily scalable as per the consumer demands.
Efficiency
When you have the best team of mobile app development services for your job you will be able to achieve the desired ROI for your business. This will be based on user-friendliness, project management process, and usability of custom-built features. Also when you are investing in the complete business application it will be more focused on increasing productivity and decreasing the issues faced by employees. On-Demand apps can give a real boost to your business.
Unlimited Business Opportunities
The on-demand service apps have really opened up a lot of great opportunities to expand your company, as any mobile app development company would tell you. These apps can help you to offer your target customers specialized services and become the leader of a niche market. On-demand apps can help you to deliver specific products at the doorstep of your customers and also make sure that your customers are really satisfied with the products and services that you have to offer.
Provides A Competitive Edge
Another great benefit of the on-demand apps is that they can help you to offer consumer-friendly solutions each and every time so that your target audience always has to say good things about you. This implies that you can certainly increase your customer base by having a food ordering app or a car wash booking app and also cater to a geographically large area with the least difficulty. Moreover, you can have an edge over your competitors who still have not invested in having their own versions of on-demand service apps.
Developing Your Marketing Pipeline
Your on-demand app can prove to be a strong marketing tool for your business. The reputed developers integrate a mechanism in these apps, through which businesses can track the behavior of their consumers. They can make significant decisions on the basis of analytics. Besides, through the same medium, customers can share their experiences and feedback. This enables you to evaluate your business's strengths and loopholes. At the same time, through push notifications, you can inform your customers about new products, services, and schemes.
Conclusion
On-Demand apps are focused on providing consumers directly with efficient and efficient services. Within a few clicks, the ease of accessibility to select services is what makes it a convenient choice for consumers. Looking at the current market scenario, it can be considered that this on-demand app service is going to stay here for a long time and we may even witness it getting into newer industries.
Somnath Halder
|
February 22, 2021
Somnath is an expert in Digital Marketing with 3+ years of experience in SEO, Facebook leads, and Google PPC, he loves talking about content creation, SEO, and Link Building.