Starting an eCommerce business can be exciting, but it also comes with its own set of challenges. One of the most critical challenges is getting the word out about your business and driving sales. This is where eCommerce marketing strategies come in. In today's digital age, it's more critical than ever to have a strong online presence.
In this blog post, we'll explore some of the most effective eCommerce marketing strategies to help you drive sales and grow your business.
The forecast for the eCommerce market in the United States predicts a continuous increase in revenue from 2023 to 2027, with a total growth of 490.4 billion U.S. dollars (+53 percent). After ten consecutive years of growth, the indicator is expected to reach a new peak of 1.4 trillion U.S. dollars in 2027. Notably, the revenue of the eCommerce market has been consistently increasing in recent years.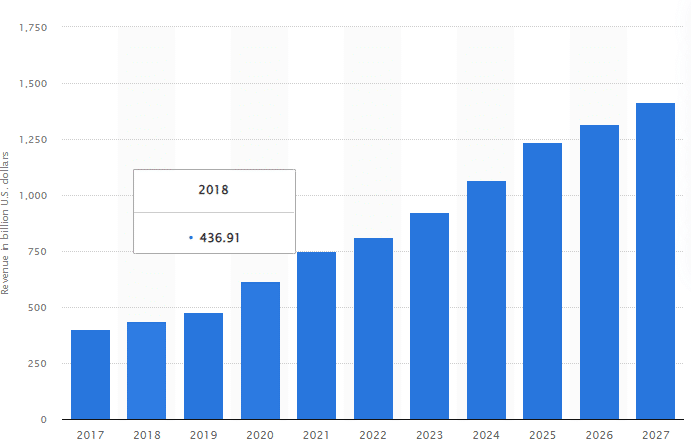 Invest In PPC (Pay-Per-Click) Advertising
PPC advertising allows you to target specific keywords and demographics that are relevant to your business. This way, you can reach potential customers who are actively searching for your products or services. With PPC, you only pay for the clicks you receive, making it a cost-effective way to drive traffic to your site.
Reach Customers Through SEO (Search Engine Optimization)
SEO involves optimizing your website and creating high-quality content that ranks well in search engines. This way, your website appears higher in search results, and potential customers are more likely to find your business. SEO can take time to see results, but it's a long-term strategy that can have a significant impact on your business.
Grow Your Social Media Presence
Social media is an excellent way to connect with customers and build brand awareness. By creating engaging content and building a strong social media presence, you can attract new customers and keep your existing customers engaged. Social media can also help you build brand loyalty, as customers are more likely to recommend your business to others.
Build an Email Marketing Strategy
Email marketing is still one of the most effective eCommerce marketing strategies out there. By building an email list and creating targeted campaigns, you can reach potential customers directly in their inboxes. Email marketing can also help you build relationships with your customers, keep them informed about new products or sales, and provide them with exclusive deals.
Build an SMS Marketing Strategy
SMS marketing is another effective way to reach customers directly. With SMS, you can send targeted messages to your customers' phones, alerting them to sales, new products, and exclusive deals. SMS can be a more immediate way to reach your customers, as they are more likely to read a text message than an email.
Streamline On-Site Navigation
Your website's navigation can have a significant impact on your sales. By creating a user-friendly site that's easy to navigate, customers are more likely to stay on your site and make a purchase. This means creating a clear navigation menu, using descriptive language for your products, and making the checkout process as straightforward as possible.
Leverage Social Proof & Testimonials
Social proof is a powerful tool that can help you build trust with your customers. By displaying customer reviews and testimonials on your website, potential customers are more likely to make a purchase. This is because they can see that other customers have had positive experiences with your business and trust your brand.
Save Abandoned Carts
Abandoned carts are a common problem for eCommerce businesses. By tracking abandoned carts and sending targeted emails or SMS messages with incentives, you can encourage customers to come back and complete their purchases.
A/B Test Everything
A/B testing involves testing two versions of a website or campaign to see which one performs better. By testing different elements such as the copy, images, or design, you can determine what resonates with your customers and optimize your strategy accordingly.
Conclusion
In the fast-paced world of eCommerce, it's essential to have a strong marketing strategy to drive sales and grow your business. By investing in PPC advertising, SEO, social media, email, and SMS marketing, you can reach customers where they are and build relationships with them. By streamlining your site's navigation, leveraging social proof, and testing everything, you can optimize your strategy and achieve the best possible results. Remember, eCommerce marketing is an ongoing effort, so it's essential to continue to monitor, test, and optimize your strategy to stay ahead of the competition.
Nafis Zaman
|
August 21, 2023
Nafis is a senior UX Designer with 10+ years of experience designing websites and apps. He loves discussing UX Design, Web Design, Logo Design, Photoshop, and Figma.