In today's digital age, having an online presence is essential for small businesses to thrive. One of the crucial decisions you'll face when establishing your online presence is choosing between a static or dynamic website. Each option comes with its own set of advantages and drawbacks. In this comprehensive guide, we'll explore the differences between static and dynamic websites, weigh the pros and cons of each, and help you decide which is the best website solution for your small business.
What is a Static Website?
A static website is composed of web pages with fixed content that remains unchanged unless manually edited by a developer or webmaster. These websites are typically coded in HTML and CSS and are well-suited for businesses that don't require frequent updates or interactive features.
What is a Dynamic Website?
A dynamic website, on the other hand, relies on a content management system (CMS) and databases to generate web pages on-the-fly. Content, such as blog posts, product listings, and user-generated content, is stored in a database and assembled into web pages in real-time when requested by a user. Dynamic websites are highly interactive and allow for user registration, logins, and personalized content.
What is the Difference Between Static and Dynamic Websites?
The key distinction between static and dynamic websites lies in the way content is generated and displayed: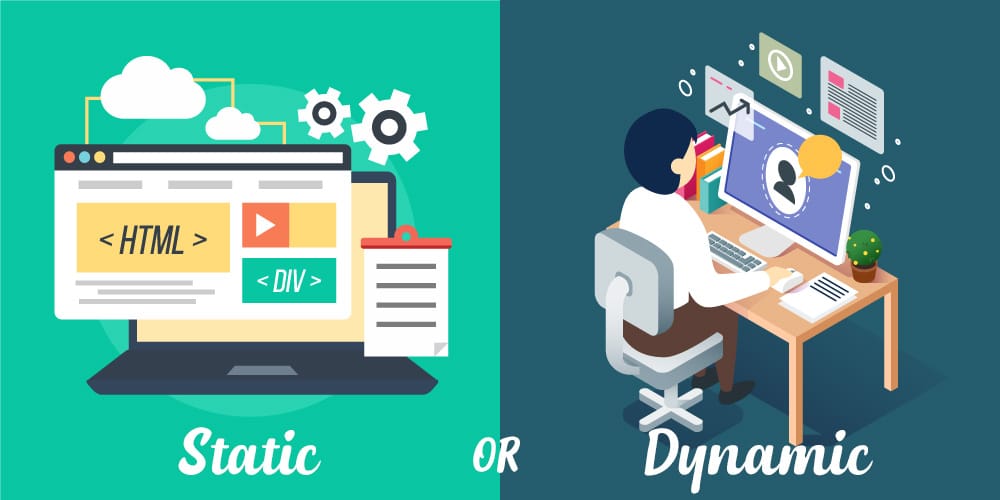 Static Website: Content is fixed and hardcoded into the web pages, making updates manual and requiring web development expertise.
Dynamic Website: Content is stored in a database and assembled dynamically, allowing for real-time updates and user interactions.
Now, let's delve into the pros and cons of each website type, starting with static websites.
Static Website Pros
Simple to Create
Static websites are relatively straightforward to create. They require less technical complexity, making them an excellent choice for businesses with limited resources or those looking to establish a basic online presence quickly.
Flexibility
Design and layout choices are highly customizable in static websites. Developers have full control over every element, allowing for unique and tailored designs.
Fast Load Time
Static websites tend to load faster because there's no need for database queries or dynamic content generation. This quick load time enhances user experience and can positively impact search engine rankings.
Simpler SEO
Static websites are typically more straightforward to optimize for search engines. Since content is hardcoded, you have complete control over meta tags, keywords, and other SEO elements.
Static Website Cons
Updates Require More Manual Work
Static websites necessitate manual updates for even minor changes, which can be time-consuming and may require technical expertise. This limitation can lead to outdated content if updates are infrequent.
Harder to Scale Due to Manual Updates
As your business grows, maintaining a static website with a large volume of content becomes challenging. Scaling often requires additional manual work, potentially leading to inefficiencies.
Now, let's explore the pros and cons of dynamic websites.
Dynamic Website Pros
Allows for User Login
Dynamic websites enable user registration and login functionality, making them suitable for businesses that require member-only sections or personalized experiences.
Good for Personalization
Dynamic websites can deliver personalized content based on user preferences, behavior, and interactions. This enhances user engagement and satisfaction.
Good for Frequent Updates
Businesses that frequently update their content, such as blogs or e-commerce sites with changing product listings, benefit from the ease of content management provided by dynamic websites.
Scalability
Dynamic websites are highly scalable, making it easier to add new features, pages, or content as your business grows. This scalability supports long-term business expansion.
Dynamic Website Cons
More Complex to Build
Building a dynamic website is typically more complex and time-consuming than creating a static site. It may require more advanced technical skills and the use of CMS platforms.
How We Can Help You Build Your Website
At YapBuzz, we specialize in developing websites tailored to your business needs. Whether you're leaning towards a static or dynamic website, our experienced team will work closely with you to create a website that aligns with your goals and budget. From design and development to ongoing maintenance, we're here to support your online presence every step of the way.
Conclusion
Choosing between a static and dynamic website for your small business depends on your specific requirements and goals. Static websites offer simplicity and speed, making them suitable for businesses with basic needs. Dynamic websites, on the other hand, provide advanced functionality, scalability, and personalized experiences, making them ideal for businesses with interactive content and frequent updates.
At the end of the day, the best website for a small business depends on your unique circumstances. Regardless of your choice, YapBuzz is here to assist you in building and maintaining a strong online presence. We're committed to helping your business thrive in the digital landscape, whether through a static or dynamic website. Contact us today to get started on your journey towards online success.
Nafis Zaman
|
November 6, 2023
Nafis is a senior UX Designer with 10+ years of experience designing websites and apps. He loves discussing UX Design, Web Design, Logo Design, Photoshop, and Figma.