In today's digital age, having a strong online presence is vital for businesses of all sizes. One tool that can significantly boost your online visibility and credibility is Google Business Profile. This powerful platform offers a range of benefits that can help your business stand out in local search results and attract more customers. In this comprehensive guide, we'll explore what Google Business Profile is and delve into the top 5 benefits it offers. Let's uncover how harnessing the power of this platform can make a substantial difference in your online presence.
What Is Google Business Profile?
Google Business Profile, formerly known as Google My Business (GMB), is a free online tool provided by Google that allows businesses to manage their online presence across various Google services, including Google Search and Google Maps. It enables businesses to create a detailed profile that includes essential information such as business hours, location, contact details, and customer reviews.
.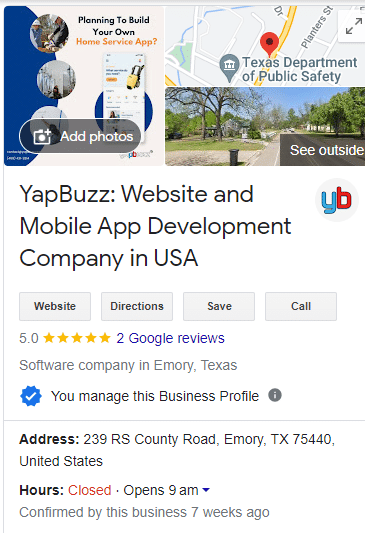 The Benefits Of Google Business Profile
1. GMB Allows You to Appear in Maps and Google Local Pack Listings
When potential customers search for products or services in their local area, Google often displays a map with relevant businesses in a section called the Google Local Pack. Having a Google Business Profile significantly increases your chances of appearing in these local pack listings. This prime real estate on search results pages can lead to more visibility and clicks for your business.
2. It's Highly Visible
Google Business Profile listings are prominently displayed in search results, often near the top of the page. This visibility can be a game-changer for local businesses looking to attract nearby customers. Users can easily access essential information about your business, such as your address, phone number, and website, directly from the search results.
3. GMB Allows People to Leave Reviews of Your Business
Customer reviews play a crucial role in consumers' decision-making processes. With Google Business Profile, customers can leave reviews and ratings for your business. Positive reviews can build trust and credibility while addressing negative feedback demonstrates your commitment to customer satisfaction. Encouraging satisfied customers to leave reviews can boost your online reputation.
4. GMB Provides Insights That Give You Helpful Information
Google Business Profile offers valuable insights into how customers interact with your listing. You can track various metrics, including the number of clicks, calls, website visits, and requests for directions generated by your listing. These insights provide valuable data to understand customer behavior and tailor your marketing efforts accordingly.
5. It's Free and Easy to Use
Perhaps one of the most significant advantages of Google Business Profile is that it's entirely free to use. Setting up and optimizing your profile is a straightforward process that doesn't require any technical expertise. Google provides step-by-step guidance to help you make the most of your listing, making it accessible to businesses of all sizes.
Conclusion
Google Business Profile is an invaluable tool for businesses looking to enhance their online presence, connect with local customers, and build trust in their brand. With its ability to boost visibility in local search results, provide a platform for customer reviews, offer insights into user interactions, and its user-friendly interface, it's a must-have for any business.
By leveraging the benefits of Google Business Profile, you can not only attract more customers but also establish a strong online reputation. Don't miss out on the opportunities this platform provides—take the time to create and optimize your Google Business Profile today and watch your business thrive in the digital landscape.
Somnath Halder
|
October 9, 2023
Somnath is an expert in Digital Marketing with 3+ years of experience in SEO, Facebook leads, and Google PPC, he loves talking about content creation, SEO, and Link Building.