This question may appear to be a silly one, but it has a lot of merit in 2022. When most people are looking for a service, one of the first things they do is a quick Google search. Few of these people will look past the first page of results.
If you own medical practice in Los Angeles but don't have a website, then you're missing out on opportunities to grow your healthcare business. Our experts ranked the top Los Angeles website development companies that offer internationally competitive services. Hire healthcare developers to improve your medical practices with a proper healthcare website.
How Can a Los Angeles Website Development Company Help You With Your Healthcare Business?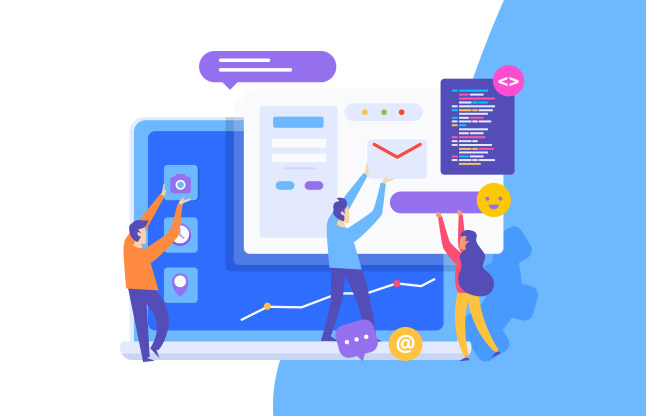 Let's read on to find out:
Aids In The Exchange Of Relevant Information
Your patients will benefit greatly from an effective healthcare website that contains all relevant and important information. The most basic and informative website serves as a simple means of communication between the medical center and the information seeker. Such websites can include all of the important information, such as opening hours, contact information, images of your location or machines, and contact forms to facilitate inquiries, as well as the ability to book an appointment online. Our experts ranked the top Los Angeles website development companies that offer internationally competitive services.
Building Credibility
Patients nowadays expect a strong online presence from reputable hospitals. They must be looking for answers to their health problems. Having a website designed by a reputed Los Angeles website development firm will help in showcasing the best information about your healthcare services to your potential patients.
Smooth Online Customer Service
Prior to the popularity of websites, people had to wait in long lines to book appointments. They were also asked to wait a long time for information about the medical center or the doctor's availability. However, with the assistance of a medical website, you can relieve yourself and your patients of half the burden. If you want to hire healthcare developers for healthcare website development, YapBuzz can be your reliable partner.
Reach Expansion
Another advantage of having an easy-to-use healthcare website is that it reaches information seekers beyond geographical boundaries. This means that anyone in the world can gain access to your healthcare center's information. This gives you global reach and expansion.
Patient Insights
Analytic tools are also very important for your organization, according to Patient Insights. It enables you to map out and identify your typical information seekers, as well as how they found you. It allows you to learn what your visitors like and tailor your organization to maximize your reach. You can figure out what kind of treatment people want and then try to incorporate that service into your hospital. This is beneficial to both your hospital and the patients.
4 Best Practices for Healthcare Website Design
If you want to create a unique healthcare website, you'll need to employ some tried-and-true best practices. Here are four that are simple to implement and will make your website stand out!
Read Also: Why You Should Hire A Professional Website Designers For Your Online Business
Select a CMS designed specifically for healthcare organizations
How does one go about developing a healthcare website? To build your website and publish content, you use a website-building tool, also known as a content management system (CMS). There are numerous CMS options available, including the generic options you've probably heard of (WordPress, Drupal, Squarespace).
Determine what resources your patients require from your website and work to make them available
Once you've decided on a CMS for your website, you'll need to decide on the content and resources you'll include. "What should my organization's website include?" you might ask. This question will be answered differently by each organization. To put it another way, you'll need to put yourself in the shoes of your target audience before deciding what resources to include on your website.
Make sure your website's navigation is simple
Whatever resources you provide on your website, your audience should be able to easily access those resources. This includes making sure your website is simple to use and navigate. Here are some ideas for making browsing more user-friendly:
Maintain a clean and minimalistic website
When there are too many elements competing for your audience's attention—for example, buttons, images, links, blocks of text, and so on—it can be difficult for your audience to know which resources are most important, or to find the information they seek.
Create a navigation bar with a few options
Add a search bar. Sometimes a website visitor knows exactly what resource or information they're looking for and doesn't want to search your website.
Include a website accessibility widget
Making your website accessible ensures that all visitors, regardless of ability, can easily navigate and use it. This is especially true for healthcare websites, which frequently provide information in life-or-death situations.
How can you anticipate the needs of people with disabilities who need to use your website? Some people may experience hearing or vision issues. With an accessibility widget, you can return control to your website visitors.
Eight Must-Have Features of a Good Healthcare Website
You must trust the top Los Angeles website development company to ensure that your healthcare website design produces positive results. They can assist you in providing an excellent user experience by providing useful functionality.
Read More: How To Choose The Best Web Development Company That Helps You Scale
The following features should be included in your medical website design:
Doctor's Information- Patients must be curious about the specialists who will be treating them. Help your patients get the necessary details about every doctor like his experience, qualification, etc.
Online Chat and appointment booking-Patients can communicate with hospitals via online chat and ask questions about their health issues. They can even easily book an appointment online.
Emergency Calling- This feature is useful when patients need to contact their doctor right away.
Services and Price List- The first thing patients want to know is what services you offer and how much they cost.
Blog- Create a blog section on your healthcare website to pique your patients' interest. You can share content about medical tips, diagnosis methods, and so on.
Interactive Map- Patients can find the hospital's location quickly and easily with the help of an interactive map.
Feedback Form- Always include a feedback form on your website so that patients can share their experiences.
Advanced Search Option- it can help you find relevant information about the hospital more quickly.
Conclusion
Investment in a healthcare website design has become a necessity due to the significant increase in active internet users. It's a necessary tool for healthcare companies to succeed in the online market and increase sales.
If your healthcare business does not have an online presence, you should hire a reputable web development company.
Partha Pratim Gayen
|
June 4, 2022
Partha is a senior Web Developer with over 10 years of experience. He has been working with Angular, JavaScript, Laravel, WordPress, Rest API, Oxygen Builder, MySQL, etc.