The correct payment method is essential for the success of your online business. Because there are so many merchant service providers on the market, most startup founders are unsure which platform is best for their specific needs. In this guide, we'll look at Stripe, one of the most well-known payment gateways.
After reading this guide, you will know the answers to the most burning questions: What is Stripe Connect, how it works, why it is so popular, steps to create your Stripe Connect account, and invite a developer.
What is Stripe Connect?
Stripe is a global payment service provider that allows you to make and receive payments online. This system ensures the financial success of Internet businesses of all sizes.
Stripe enables buyers and sellers to quickly transfer money across borders. The standard Stripe payout time varies by country, but it typically takes 2-7 business days.
How Stripe Connect can Simplify Accepting Payments for Your Business?
Stripe's platform enables online payment acceptance and processing, as well as financial management. This is a popular eCommerce solution for online and offline retailers, software platforms, marketplaces, subscription businesses, and so on. Let's see the Stripe payment processing system.
Simply put, each online transaction necessitates the use of a payment gateway and a processor. The first captures and securely transmits the buyer's credit card information to the processor. The payment processor then transfers funds to a third-party account after deducting card-related fees. Following that, the payment is transferred to the merchant's bank account.
Stripe is unique in that it combines gateway functionality and payment processing. Because the Stripe transaction fee is quite low, this platform is regarded as not only very convenient but also the most cost-effective way to handle eCommerce. To integrate Stripe into your business, select the method that best meets your needs. Fortunately, the platform offers a few flexible options.
Read More: How to Signup For a Twilio Account and Invite a Developer
Why Stripe Connect is so Popular?
Stripe is preferred by business owners all over the world because it eliminates the "pain" of payment processing. Stripe is well-known for providing quick and secure payment processing. Furthermore, due to its ease of integration and use, many business owners and developers find it simple to work with Stripe's platform.
However, there are a few additional key reasons why this solution is so popular.
1. Stability
The platform works flawlessly, accepting payments without delays or errors, thanks to frequent updates and continuous testing.
2. Transparency of Payments
The pricing is transparent because the company focuses on the best ethical practices. Businesses or customers are not charged any hidden fees by the system.
3. Reliable Reputation
Is Stripe safe? Without a doubt, yes! Its dependability has been demonstrated through years of market success.
4. Usability of the Interface
The system's interface is intuitive and simple to use, saving time when navigating and entering data.
5. Universality
Stripe is a universal online platform because it accepts all currencies and credit cards and works with a variety of payment methods.
Three Types of Stripe Connect Accounts
Let's look at the three different types of Stripe Connect accounts.
Stripe Connect Standard Accounts
A Stripe account that is directly controlled by the account holder (the user of your platform). A Standard account holder has a relationship with Stripe, can access the Stripe Dashboard, processes charges on their own, and can disconnect their account from your platform.
Stripe Connect Custom Accounts
The account holder has almost no visibility into this account, and Stripe has no direct contact with them. Custom accounts necessitate the most integration effort and are best suited for platforms that want complete control over the user experience.
Stripe Connect Express Accounts
Stripe handles user onboarding, account management, and identity verification through this account. Your platform can manage payout schedules, customize fund flow, and manage to brand.
Steps to Create Your Stripe Connect Account
Step 1: Have all information ready
Find out what verification information is required for each country when using Connect. The information that you need to collect is determined by factors such as the capabilities you want to activate and the country in which the account is located.
To open a Stripe account, you'll need:
An EIN Number
A physical address in the country where your EIN is issued.
A phone number in that country
A Government ID from any country
Step2: Creating your Stripe Account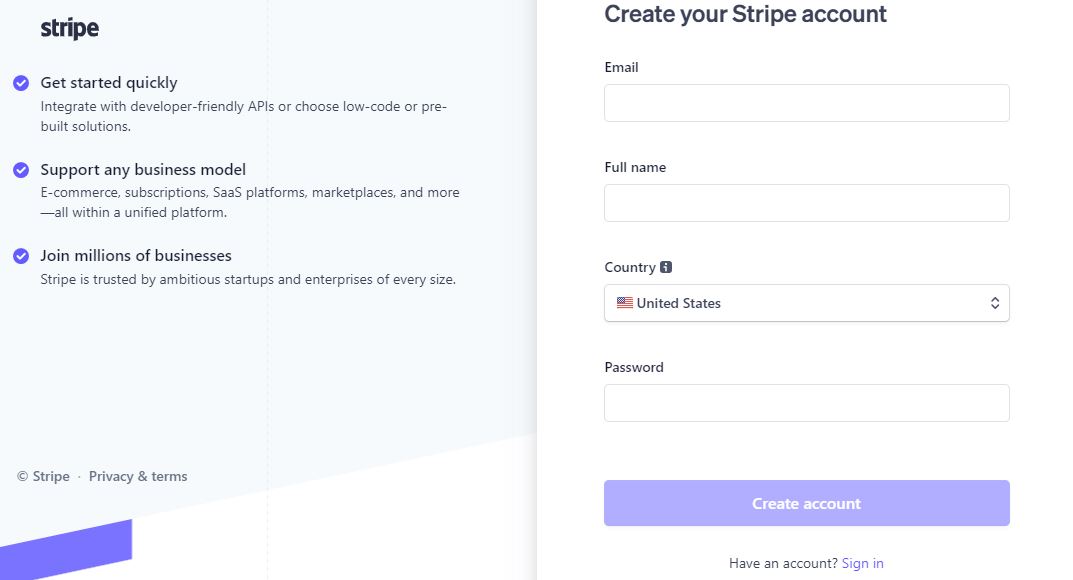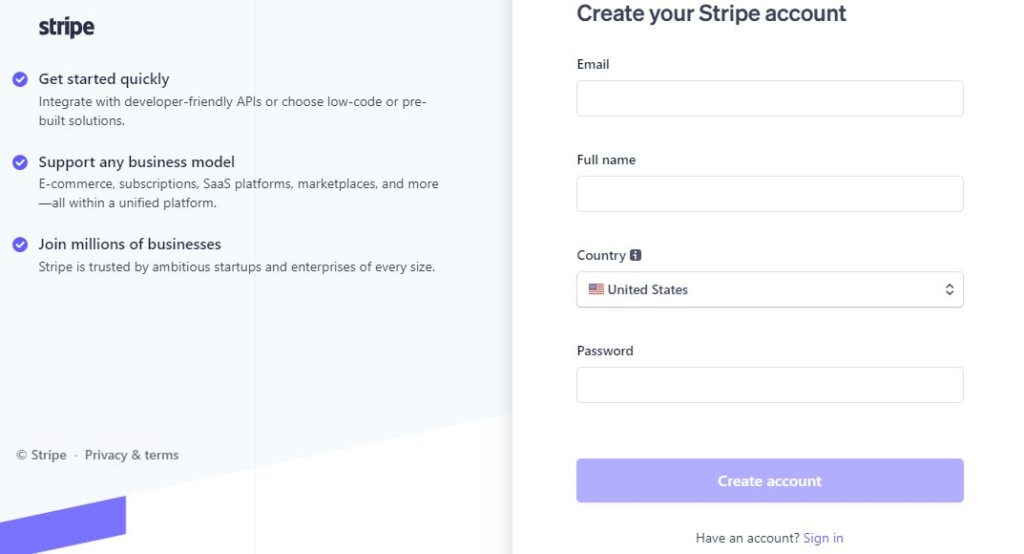 Open your Internet Browser and go to https://dashboard.stripe.com/register
Enter your email address and password
Confirm the password and put a checkmark next to "I'm not a robot"
Click on "Create your Stripe account".
Note: To avoid data and command clashes, it is always best to create a new account for each new project or endeavor.
Step3: Confirm your Stripe account through Email Verification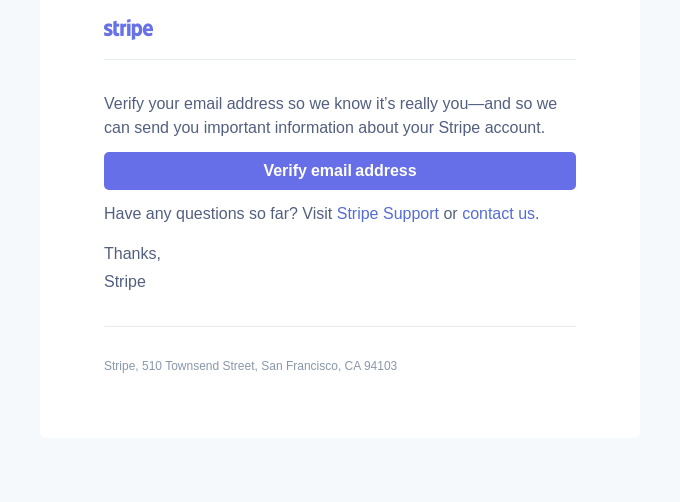 You must verify your email address before accepting payments. Stripe will email you to confirm your account. Let's move on to the account activation process after the email verification.
Step4: Enter your Bank Details and select your payment methods
To add a bank account follow the below-mentioned steps:
Log into your Dashboard.
Click Settings, then select Bank Accounts and scheduling from the Stripe dashboard side menu.
Click + Add bank account.
Enter bank account details. Your Routing number and Account number must be readily available.
Click Add Bank Account to save.
Step 5: Activate your Stripe account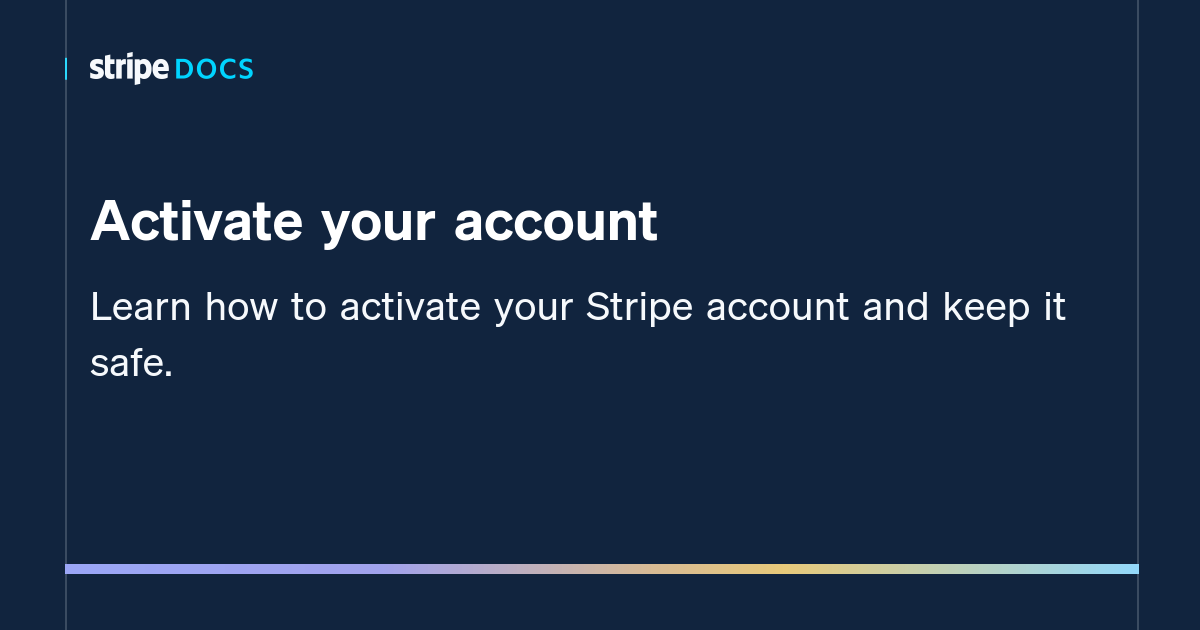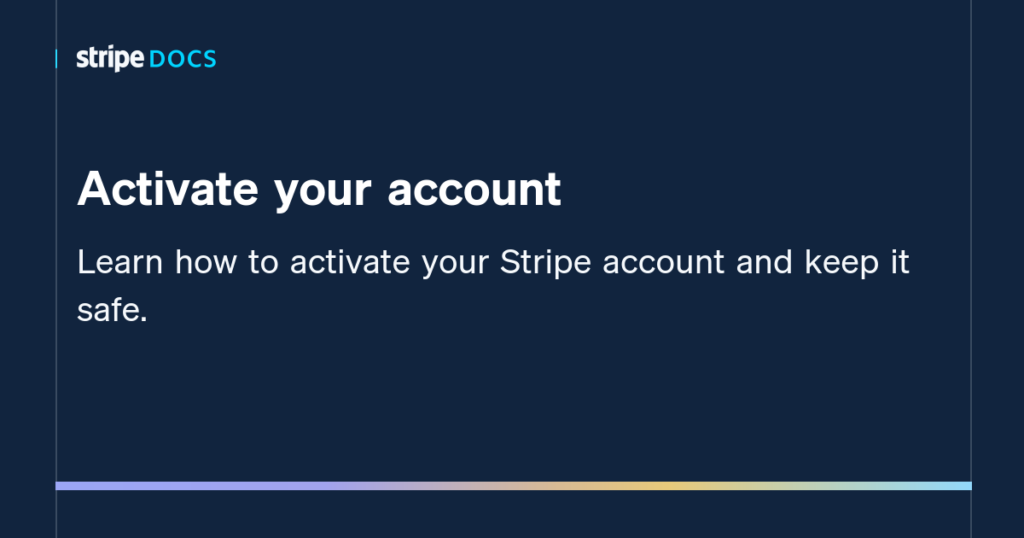 Your Stripe account will be an active cash inflow channel, requiring you to activate it with your address, bank account, and other information.
You must first have an active Stripe account in order to use Stripe as your payment gateway.
Make sure you have the following information before you activate your Stripe account
On the bottom of a check are the bank account information (transit number, institution number, and account number).
Either your social security number or, if you're a corporation, your business number (tax ID).
To activate follow the below-mentioned steps
After you've signed up for Stripe, log in to your account and switch your account from TEST to LIVE using the toggle in the top-left corner of the screen. This authorizes your account to accept payments.
Click Activate Account in the Account Not Activated dialog.
Fill out the form with your banking and identification information (the form will ask for slightly different information depending on what country you are in). After completing the form, you will be able to switch your account from test to live.
Activate your account and wait for the review to finish.
Certain payment methods may or may not be relevant depending on the nature of your transactions and the location of your customers.
Payment Methods
Payment methods are categorized into the following eight types:
Cards
Bank debits
Bank redirects
Bank transfers
Buy now, pay later
Real-time payments
Vouchers
Wallets
After you've integrated one payment method, you can add another from the same family with only minor modifications to your integration.
Here are the seven major payment method families' recommendations, as well as specific considerations based on your business model:
For e-commerce and marketplaces
Recommended: Wallets, cards, bank redirects, "buy now, pay later"
For on-demand services
Recommended: Cards, wallets
For SaaS and subscription businesses
Recommended: Cards, wallets, bank debits
For professional services
Recommended: Cards, bank debits, bank transfers
Step 6: Enable Stripe Connect on your platform
You can enable Stripe to connect to your platform once your account is active. Click "Get Started" under Connect in the "Settings" section of the left menu.
Select "Build a platform or marketplace".
Your account will then go through a review process with Stripe.
Step7: Connect Dashboard will be Visible
You will be able to see the Connect dashboard after the review process is completed. You can begin by making various parameters, representations, and insights visible on your dashboard. Your dashboard will display useful information gleaned from all of the products, prices, checkout redirects, and payment confirmations that occur on your company's website.
Step8: Invite your developer
To add a developer to your stripe connect account follow the below-mentioned steps:
Access the Stripe dashboard by logging in, then select Business Settings.
Select + New Member from the top right.
Add the email address(es) of the developer to invite to the Stripe account.
Select the Developer role for the individual team member. The team member's account permissions are determined by their roles. Developers who need to set up a Stripe integration should fill out this role.
Click Invite to send the invitation email.
Conclusion
Stripe could be an excellent choice if your company has an e-commerce sales channel and you want a technology-first payment gateway with strong security. If your company has a dedicated team of developers, they can help you get the most out of Stripe's developer tools and customize Stripe to your specific business needs.
However, if you need more information on Stripe and how we at YapBuzz can help you answer your questions, feel free to send us a message. We'd be happy to help you!
Prabal Dey
|
September 6, 2022
Prabal is the founder at YapBuzz. For the past 20 years, he has been working in a diverse field of web and mobile technologies, both for large companies such as McDonald's, Skechers, etc. as well as exciting startups such as Docebo.