Every company requires a strong communications foundation. Small businesses might be able to get by with the current infrastructure.
However, as a business expands, so does the demand for customized solutions to meet needs like employee collaboration, customer engagement, and more. Every second spent working around the limitations of your communication tools is time that could be spent doing something else.
Twilio has emerged as a simple way for companies and software teams to begin adding communications capabilities to their applications in the form of video, text, and voice, providing companies with the adaptability they require to incorporate more enjoyable customer experiences into their everyday business operations.
In this post, we'll discuss how to create a Twilio account and invite your developer.
What is Twilio?
A cloud-based communication platform is Twilio. By using building blocks called APIs, it assists in creating customer experiences. This facilitates communication throughout the board.
Using Twilio, software developers can create semi-automatic business communication systems that make it possible to:
Making/receiving phone calls
Sending/receiving text messages
Launching email campaigns
Staying connected with customers
Additionally, Twilio uses its web service APIs to verify users and track marketing campaigns automatically. This is a great option if you need to send and receive verification codes, make voice and video calls, exchange text messages and files within an app, and build one or more chatbots for your website.
Instead of wasting a lot of time haggling with mobile operators to resolve communication issues, Twilio assists its clients in concentrating on their current objectives, such as communication with partners, customers, and employees.
How Twilio can Help You in Scaling Your Business?
Companies like yours are able to create digital experiences that are relevant to their unique business logic. Specificity is essential, and Twilio allows you to create customer interaction experiences that match the goals, scope, and customer engagement culture of your brand. The bottom line is that Twilio is a solution provider you must look into if you're trying to communicate digitally with your customers at scale.
Read More: How Mobile Apps Can Help Small Businesses?
However, Twilio's advantages don't end there. Below is a list of some additional advantages of using Twilio as a cloud communication platform:
Pay As You Go
The fact that you don't need to sign up for an expensive subscription in order to use the platform is possibly one of their most significant selling points. You will be charged according to how much you use the platform because of their usage-based pricing policy.
Fast Implementation
Even though it isn't dragged and dropped, the implementation process might be more technical and challenging. The Twilio APIs are robust yet easy to use, and thorough instructions and tutorials will expertly lead your developers through the implementation process.
Holistic Digital Communication Solutions
Want to connect with your customers on a global scale through various channels? Well, Twilio will assist you with that specifically. To reach your customers where they prefer, the platform already has pre-integrated connections to widely used communication channels like Facebook, WhatsApp, Messenger, Email, Voice, and SMS.
Understand Your Customers
You can gain special insights into the preferences and behavior of your customers by integrating your CRM with Twilio. This will help you better comprehend the entire buying process. To assess the ROI and effectiveness of your marketing efforts and to guide your future decisions, you can even track calls and assign sources.
Suitable For Businesses Of All Sizes
The communication tools from Twilio can be scaled to meet your unique requirements for all things related to customer interaction, regardless of whether you are a large multinational corporation or a small to midsize business. Twilio can help you if you want to inform a small group of customers about their shipping status or send bulk messages to your clients or even your staff.
Excellent Customer Service
Personalized customer service is something Twilio takes great pride in. Based on the importance of the inquiry, they have a guarantee of responsiveness. They have a devoted technical account manager who is familiar with your setup and company and responds quickly to your requests for assistance. Additionally, you can purchase various tier-based support packages and live chat support available around-the-clock depending on your budget.
Read More: How To Submit An App To The App Store - Complete Guide
Reliable Connectivity 
The carrier communication network is strengthened by Twilio's Super Network, enabling unparalleled scale for communication and better connectivity. With just a few clicks, the Twilio software will enable you to use a vast ecosystem of carriers rather than creating your own network of carriers. Additionally, they employ proactive routing techniques to identify potential carrier outages in order to establish a trustworthy and superior connection.
Steps In Detail To Create A Twilio Account And Invite A Developer
Step 1: Sign up for Your Twilio Trial Account
Twilio's sign-up process is quick and easy. To get started.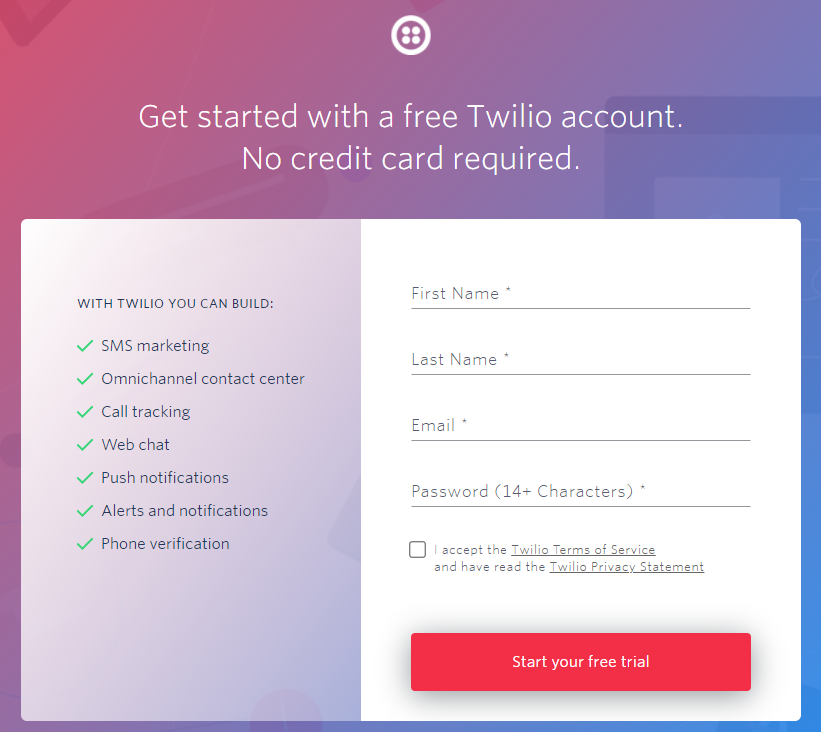 Visit Twilio's new account page, register for an account there, and enter your:
First Name
Last Name
Email Address
A password that meets Twilio's requirements
Verify your email address
In order to protect your account, Twilio may require you to complete a User Verification step before allowing access to certain Console pages that contain sensitive information.
Twilio will send an email with the verification code to the email address you are registered with
Copy the verification code which you will have to enter in order to verify your email address.
Step 2: Verify Your Personal Phone Number
Twilio needs to confirm that the person or organization setting up is actually you.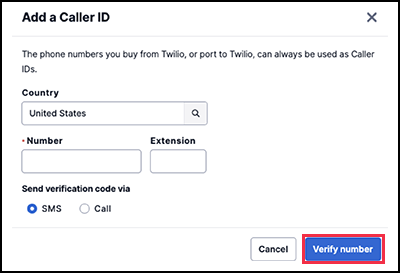 To verify your personal number
Open Console and navigate to the Verified Caller IDs page.
Click Add a new Caller ID
Select your country, Click Verify Number after entering the desired phone number to verify, and choose the preferred verification approach.
Enter the verification code you received via SMS or call.
Your number is now verified.
To provide you with access to additional non-Twilio phone numbers in trial mode
On the side navigation menu, select Phone Numbers.
Click Verified caller IDs under the Manage dropdown. Click the Add a new Caller ID button to add a new number once you've reached the Verified caller IDs page.
Click Verify Number after entering the desired phone number to verify and choose the preferred verification approach.
Enter the verification code. With your Twilio trial account, you are now prepared to text this number or make a phone call.
Step 3: Setup Your Billing Information
There are two tabs on the Billing Preferences page: Company and Notifications.
Billing preferences are available to all customers on the Company tab.
The Notifications Tab contains email opt-in/opt-out settings and email addresses.
Company Name
On the Company tab, the Company Name can be added or changed. On your invoice, the name of your account will be listed in this field. To submit your changes after adding or changing the Company Name, click Save.
Please refrain from entering email addresses, phone numbers, credit card numbers, or any other personally identifiable information such as your company name in order to protect your data.
Business Tax ID
From the Company tab, tax identification numbers can be added or modified. This is how your company gives Twilio the data it needs for tax and billing purposes.
To add your local Tax ID follow the below-mentioned steps:
Select your Service Address country.
Click I have a Tax Number after the country has been selected, then enter your code.
Click Save to submit your changes.
Service Address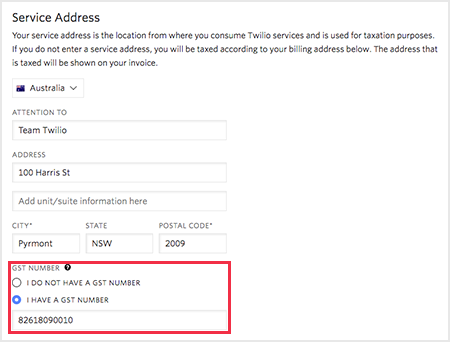 On the Company tab, you can add or modify your company's service address. The location from which you use Twilio services and the location from which Twilio computes sales tax for your account are both referred to as service addresses. To submit your changes each time you add or modify the Service Address, click Save.
Read More: How To Publish An Android App On Google Play Store: A Step-by-Step Guide
You might be asked to change or correct the address you entered before saving your updated service address. Please choose a valid address from the suggestions provided in our database to guarantee that you receive a legitimate tax invoice.
Note: Please note that Twilio will automatically use the Billing Address (if one is listed) for tax purposes in the event that we detect an invalid Service Address.
PO (Purchase Order) Number
You can add or modify your Purchase Order (PO) Number on the Company tab if you want to use it for invoices. To submit your changes each time you add or modify the PO Number, click Save.
The PO Number will be active as of the date you add it, and it will be shown on the subsequent invoice that is generated.
Billing Emails
From the Notifications tab, invoiced customers can add or modify the email address used for invoice notifications. The primary recipient is the primary billing email address; additional recipients can be added or removed using the Add and Remove options. Carbon copies of invoice emails will be sent to any non-primary email addresses entered (described in Console as "other billing email addresses") (CCs). To submit your changes after adding or changing billing email addresses, click Save.
To help ensure you have entered a valid email address that is able to receive our emails, all entered email addresses go through some basic verification. For important invoice communications, Twilio requires that invoiced customers have at least a functioning primary billing email address on file.
Monthly Notifications
Customers can choose these options from the Notifications tab if they want to receive Invoice PDFs, CSV supplements, and/or Payment receipts. The primary email address (and any additional billing addresses listed above) will receive any documents that have been reviewed on a monthly basis.
Note: If no email addresses are entered, any users with the owner, admin, or billing roles will receive an email with the selected document(s).
Users with the Owner, Administrator, or Billing Manager roles are the only ones who have access to the Console Billing Preferences page. An HTTP 403 error will be returned to users who have the Developer role trying to access this page.
Step 4: Upgrade Your Account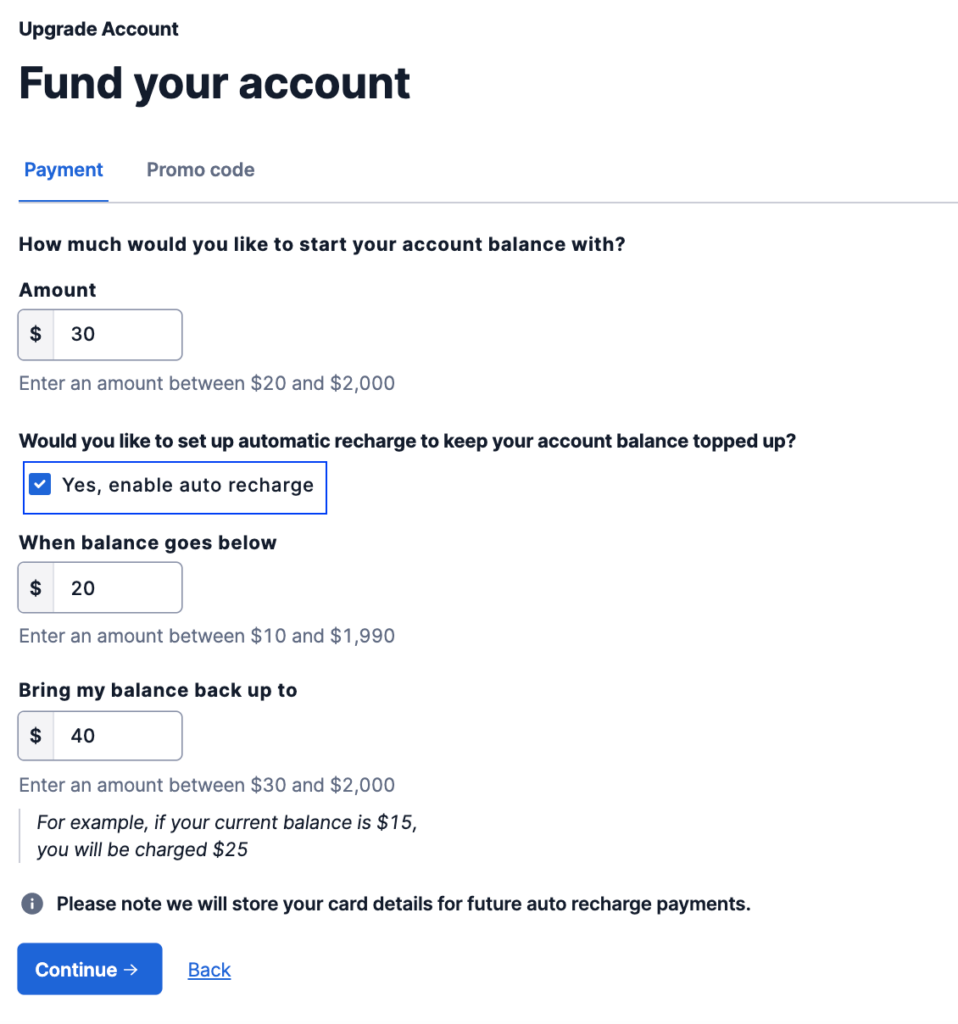 You will need to upgrade your trial account to a full paid account if your Twilio needs to change or you need to complete an action that isn't possible with your trial account.
Simply enter your credit card information or Paypal account information on the billing page to upgrade. When your balance falls below a predetermined threshold, Twilio can automatically charge you, or you can purchase Twilio credits using one-off payments.
Step 5: Buy Your First Twilio Phone Number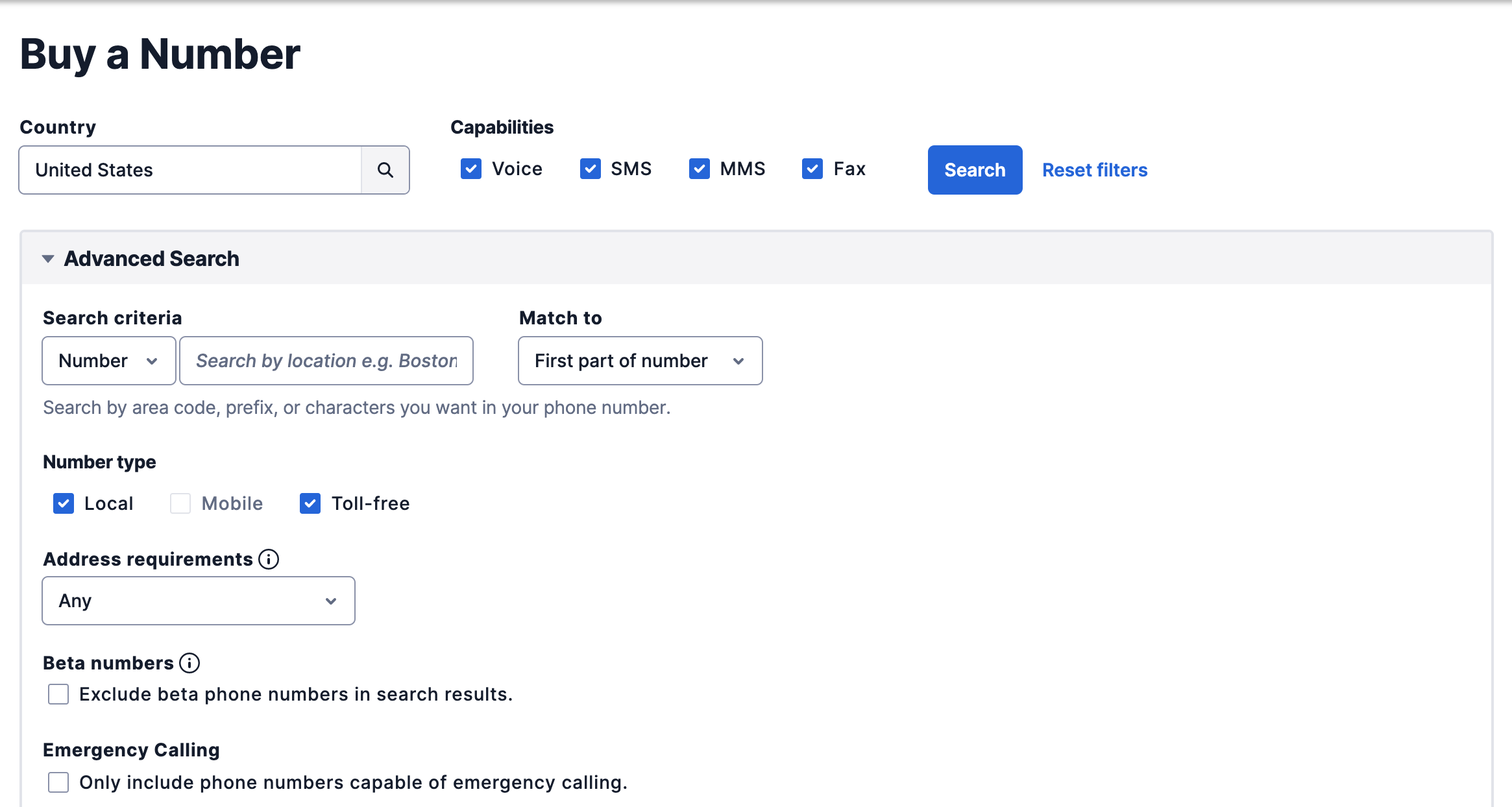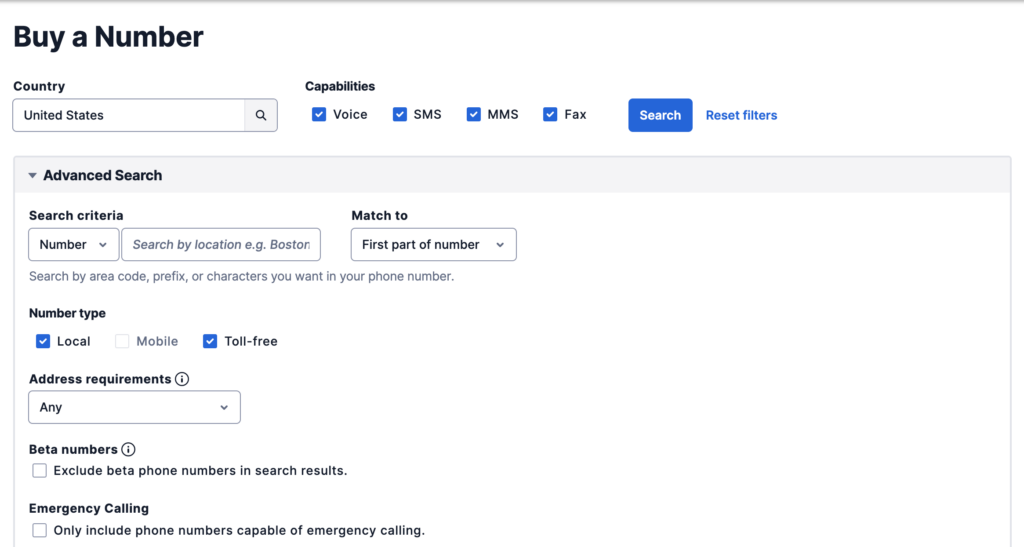 To send messages or make phone calls using Twilio, you will need a Twilio phone number, which you can purchase from Twilio.
After signing up for your trial account, go to the Buy a Number page in Console.(Visit Console under Develop > Phone Numbers > Manage > Buy a Number.)
To find Phone Numbers, enter your search criteria and click "SEARCH."
Country: From the drop-down menu, choose the desired country.
Number or Location: Choose the desired option to search by numbers/phrases, or a particular City or Region.
Capabilities: Select the services you require for this number under capabilities.
Advanced: To display options for the preferred phone number type (local, mobile, toll-free), local address requirements, and to enable beta number results, click this link.
The location, type, capabilities, price, and phone number of each item in the search results list will be shown. Click Buy to view the number after you've found the one that suits your needs.
Read More: 7 Branding/Re-branding Strategies For Your Business
Note: The full monthly cost of the phone number will be charged to your project once your phone number has been provisioned successfully.
Step 6: Invite Your Developer to Your Twilio Account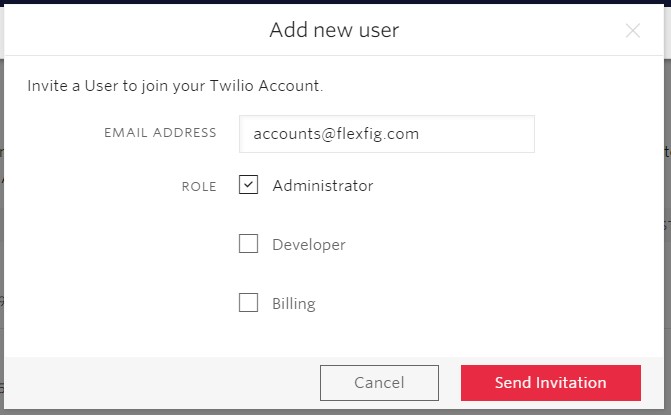 Login to your account at www.twilio.com/console.
Go to Admin Center> Accounts after logging into the Console.
Click on the account name you are managing.
Click on the Users tab.
Click the Invite User button.
Enter their email address in the box that now appears in the Invite User to Account panel.
Choose their account role:
Developer: They can add phone numbers and API credentials, for example, but they have no management control over the account's development resources.
Click Submit.
Read More: How to Signup For a Stripe Connect Account and Invite a Developer
Conclusion
Twilio enables more than 932 billion human interactions annually and powers communications for more than 190,000 businesses worldwide. With the help of this detailed blog, we hope that you will learn what Twilio is, how to create an account, and invite your developer. You can easily hire a mobile app development service to integrate Twilio with your web apps. If you want to hire developers, YapBuzz is a leading provider of mobile app development services globally. Connect with us today to discuss your requirements.
Prabal Dey
|
August 22, 2022
Prabal is the founder at YapBuzz. For the past 20 years, he has been working in a diverse field of web and mobile technologies, both for large companies such as McDonald's, Skechers, etc. as well as exciting startups such as Docebo.