As small business owners, the end of the year can be overwhelming with a myriad of year-end tasks. However, 2023 is the perfect time for small business owners to set small achievable goals for the new year to help grow and improve their businesses. These goals should not only benefit their business but also help to promote their well-being as small business owners. While it's easy to get caught up in working day and night, it's also important to recognize that taking small steps can still lead you down a path toward success.
Making small but impactful changes at the start of a new year is just one way to maximize your productivity and continue moving forward with your small business goals.
New Year's Resolutions For Small Business Owners
Now is the perfect time to reassess and make improvements in your business. Take a step back, identify any problems that need solving and brainstorm some ways you can bring positive change into day-to-day operations as well as longer-term projects which could have a major impact on success going forward.
With the new year comes a unique set of opportunities to catapult your business into greater success. Here are 10 new year's resolutions that can help you achieve greater prosperity in 2023: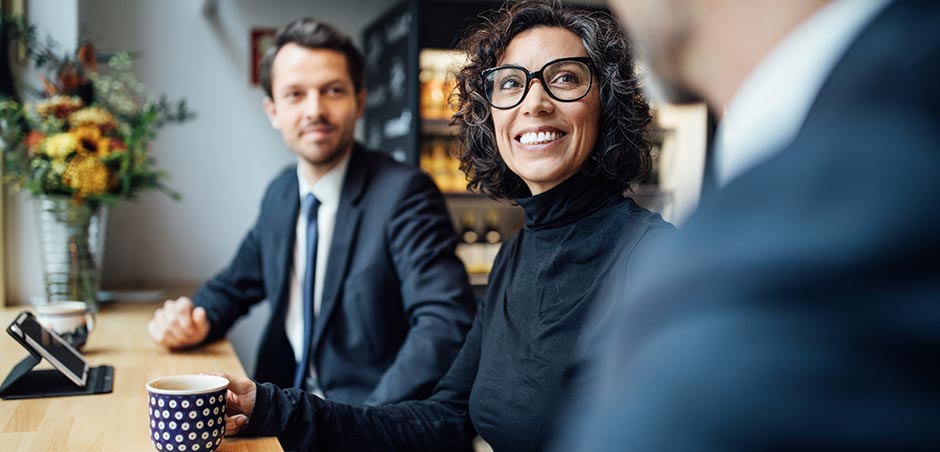 Build Your Brand
New year's resolutions tend to be all about personal growth, but this year why not add something that also benefits your business? Branding has the power to amplify your business presence and make it stand out in a competitive market by establishing yourself as an authority figure. This can be done by refining your target audience & niche, crafting unique content, and adjusting the voice, feel, and style of your website.
Read More: 7 Branding/Re-branding Strategies For Your Business
Successful brands like Nike, Disney, and Coca-Cola have left a lasting impression – take the steps today to ensure your New Year is the one where you take control of your brand identity.
Create A Website
With the new year come new resolutions, new goals, and new chances to reach success. If you're running a business in the 21st century and want to remain competitive, then having an Online presence is essential. More than ever now, having a website that clearly showcases who you are and what your business offers is critical for achieving success.
Read More: Website Development Cost: Top 10 Factors
Thankfully, there are many simple, user-friendly tools available today that don't require any major expertise or skills to set up and use. With so much on your small business 'to-do list', prioritizing the presence of web content is an easy resolution you won't regret making!
Expand Your Network On Social Media
New year's resolutions provide the perfect opportunity for businesses to evaluate, revise, and perfect their approach to digital engagement. It is essential to get your business seen, build your brand and develop a loyal following. To make the most out of 2023, be sure to take advantage of all available social media platforms. Not only will using these platforms help increase visibility but it is also an effective way to create a connection with audiences and give them an easy way of finding and visiting your website. Taking the time to refine your digital engagement strategy can lead to exciting new opportunities that are sure to bring success in the new year.
Write Informative Blog
In 2023, new year's resolutions should include new strategies for modern content marketing. The internet landscape may be constantly changing, but the idea of creating content to engage with audiences and provide value is as relevant today as ever—if not even more so. Quality content is still the Queen of the internet, after all. That's why blogging should remain a priority this new year. Content creation through personal and business blogs remains a powerful tool for providing expertise, building your brand, and growing your business in the digital era.
Refresh Your SEO Plan
New year's resolutions are a great opportunity for small businesses to get serious about their growing obligations. Attracting an audience and having good content is necessary but not always enough, as you have to also ensure that your site is primed to rank high on search engines.
Read More: 8 Important SEO Trends
This is especially true when considering that 81% of shoppers do research before purchase and 75% end their search after the first page. Don't let potential buyers miss out on the chance to find your business's services – start taking those vital steps toward better online visibility today!
Email Marketing
New year's resolutions are often focused on personal development and improvement, but what about resolutions for your business? Investing in an email strategy is one resolution you should consider this year.
With 89% of marketers reporting that email is the primary channel for lead generation, it makes sense to put more money into this medium when creating a marketing budget. Not only is email seen as the single-most-effective tactic for meeting awareness, acquisition, conversion, and retention goals, but customers also prefer this form of communication to others offered by companies they do business with—72% of consumers highlighted email as their favorite option. Make 2023 the year your New Year resolution to help your business reach new heights!
PPC Ads
New year's resolutions are popular every year, and 2023 is no different. But what many people don't know is that there is a way to be found on the web quickly and easily - paid search. The paid search involves investing money in an advertising campaign to appear in the sponsored sections of search engine results, allowing businesses to benefit from the increased visibility this provides. With PPC, you only pay when someone clicks on your ad - so with some well-chosen keywords and an effective strategy, this New Year could be the one where you finally make that mark online!
Build Your Customer Service
As a business owner, the New Year is an excellent time to reflect on the successes and missteps of the previous year when it comes to customer service. It's important to note that 93% of customers report they are more likely to become repeat customers at companies that offer excellent customer service; therefore, processing what mistakes were made in 2022 and how those scenarios can be avoided in 2023 should be one of your New year's resolutions.
It's also beneficial for businesses to identify what went well with their customer service experiences in 2022 so those practices can be fostered and expanded in 2023.
Ultimately, customer service matters—now more than ever before—and as such should be taken into careful consideration moving forward into this new year.
Manage Your Time Properly
New year's resolutions are always a good opportunity to take stock of your current practices and make improvements.
As a small business owner, there may be countless tasks vying for your attention on any given day, making it difficult to stay organized and productive. By resolving to find new ways to manage your time in the new year, you can clear the space needed to focus on critical activities that help make your company successful. Try testing out different strategies until you find one that works best for you - you'll be surprised at how much a few tweaks can enhance both productivity and satisfaction.
Beat Burnout
New Year's resolutions are an opportunity for small business owners to take a step back, reevaluate their day-to-day operations, and consider how burnout is or isn't impacting their performance.
It is no secret that managing your own business means you are often working yourself to the bone. As such, it is important to set clear boundaries and to remember when to take a break or seek out help when necessary in order to minimize work-related stress and fatigue.
Knowing your personal limits and finding a sustainable working routine that the new year can bring is key to successful business practices that don't force you into burnout territory.
Read More: Key Business Growth Strategies For Small Business
A Better Year Starts Here
As new year's resolutions begin, ensure your business is ready for this new chapter. YapBuzz is there for you to help your business's online presence to reevaluate your marketing strategy with tailored advice, the latest technologies, and excellent customer service, all while staying within budget. Reach out to our expert today to learn more and get started on working your business's future in this new year and beyond.
Somnath Halder
|
December 29, 2022
Somnath is an expert in Digital Marketing with 3+ years of experience in SEO, Facebook leads, and Google PPC, he loves talking about content creation, SEO, and Link Building.