Are you looking to set up a food delivery business in 2023? In today's food landscape, it is now easier than ever before for entrepreneurs to start their own profitable home delivery businesses. With the growing popularity of online ordering and digital platforms that facilitate fast and efficient deliveries, this mission-critical service has become an essential part of the restaurant industry.
However, starting a successful food delivery business takes more than just signing up with popular third-party apps. Knowing the basics of what goes into creating your own brand identity, managing costs effectively, and garnering customer loyalty list goes on are key to ensuring success.
In this blog post, we will provide actionable tips for new entrepreneurs looking to launch their very own food delivery services by 2023!
Food Delivery Business Market Research
The food delivery business has seen a remarkable increase in popularity over the last few years, propelled in part by an increase in consumer demand and desire for convenient food solutions. As food delivery services become more readily available, they have become entrenched as an integral component of food industry offerings.
Read More: Key Business Growth Strategies For Small Business
There are a variety of food delivery businesses that offer their customers food or groceries, along with full meals that are either cooked by them or simply ready to eat. The food delivery market has become increasingly competitive as businesses seek to outdo each other with prices, the freshness of ingredients, and the speed of delivery. It's clear that food delivery companies will continue to stay relevant within the U.S. food industry for years to come.
Is It Profitable To Invest In A Food Delivery Business?
Investing in food delivery is currently one of the most profitable endeavors, with Statista annual reports projecting an incredible market volume of $384.70 billion by 2027 and a user penetration rate reaching 19.1%. Not only is food delivery skyrocketing in growth, but it also requires few resources to launch your business since many food delivery platforms already exist.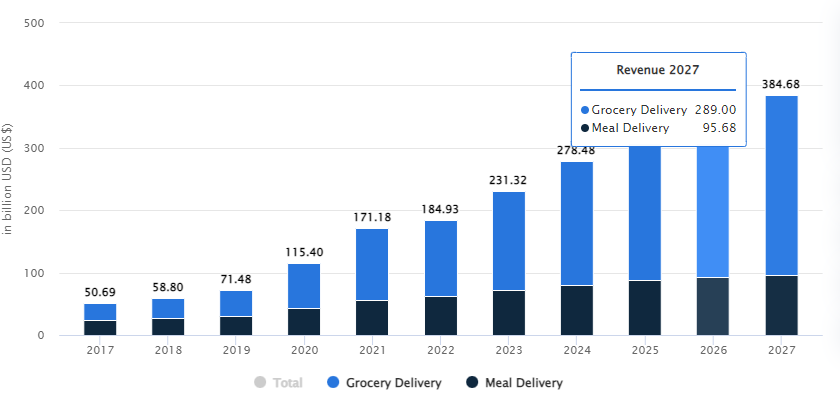 Coupled with minimal overhead costs, these advantages make food delivery a great option for savvy entrepreneurs looking to break into the industry or build on an existing food-related venture. With its wide range of potential profits and numerous convenience tools, investing in food delivery holds tremendous promise for those who take on the challenge.
How To Start A Food Delivery Business
Create Business Plan
When drafting a business plan for your food delivery business, conducting market analysis is a crucial first step to determine the level of competition in the area. Identifying other businesses similar to yours and considering how you will differentiate from them (faster delivery times, lower costs, etc.) will give you an advantage over your rivals.
Your business plan should also include a company description, organization, and management overview, details about your food delivery services, what marketing strategies you'll use, and financial projections. Taking the time to consider these key elements now will help ensure the success of your food delivery business in the long term.
Calculate Your Costs And Get Funding
Before you launch your food delivery business, it pays to know exactly what you need to get it up and running. By making a comprehensive list of all the materials and services your food delivery service will require, you can gain insight into the associated start-up costs for your venture. Those expenses could include administration fees to register your business as well as obtaining applicable business licenses and permits. Gathering this information in advance allows you to plan appropriately, helping ensure that you have the resources to get your food delivery service off the ground.
Legally Establish Your Business
Establishing a food delivery business as a formal legal entity is key for financial organization and paperwork simplification. Having a registered business helps to separate business and personal finances, and allows you to set up a dedicated business bank account.
Read More: How Mobile Apps Can Help Small Businesses?
Additionally, it makes meeting compliance requirements more straightforward and eliminates the need for extra paperwork in the future such as bookkeeping and tax filings.
Get The Right Licenses And Permits
Starting a food delivery business can be an exciting venture, but it also requires some administrative paperwork. Depending on the municipality in which your business operates, you may need to secure various licenses or permits; a food-vending license or food-handling permit may be necessary, for instance. The Centers for Disease Control and Prevention (CDC) provides resources to help entrepreneurs understand the food handling requirements for their businesses. As such, setting up your food delivery business not only means registering with the correct entities but understanding any regulations that pertain to food safety too.
Establish Your Delivery Region
Food delivery businesses are increasingly popular and provide customers with convenient access to food in the comfort of their own homes. A major benefit of operating such a business is that they are typically local, meaning food can be delivered within a city or municipality. With this localized delivery radius, companies can ensure they meet health and safety standards by having tighter control over food handling and cleanliness protocols. Furthermore, companies will save considerable time on deliveries and fuel costs since deliveries rarely have to go outside local boundaries, increasing the efficiency of food delivery services. By focusing on food delivery services locally, businesses can ensure customers receive freshly prepared food quickly and enjoyably!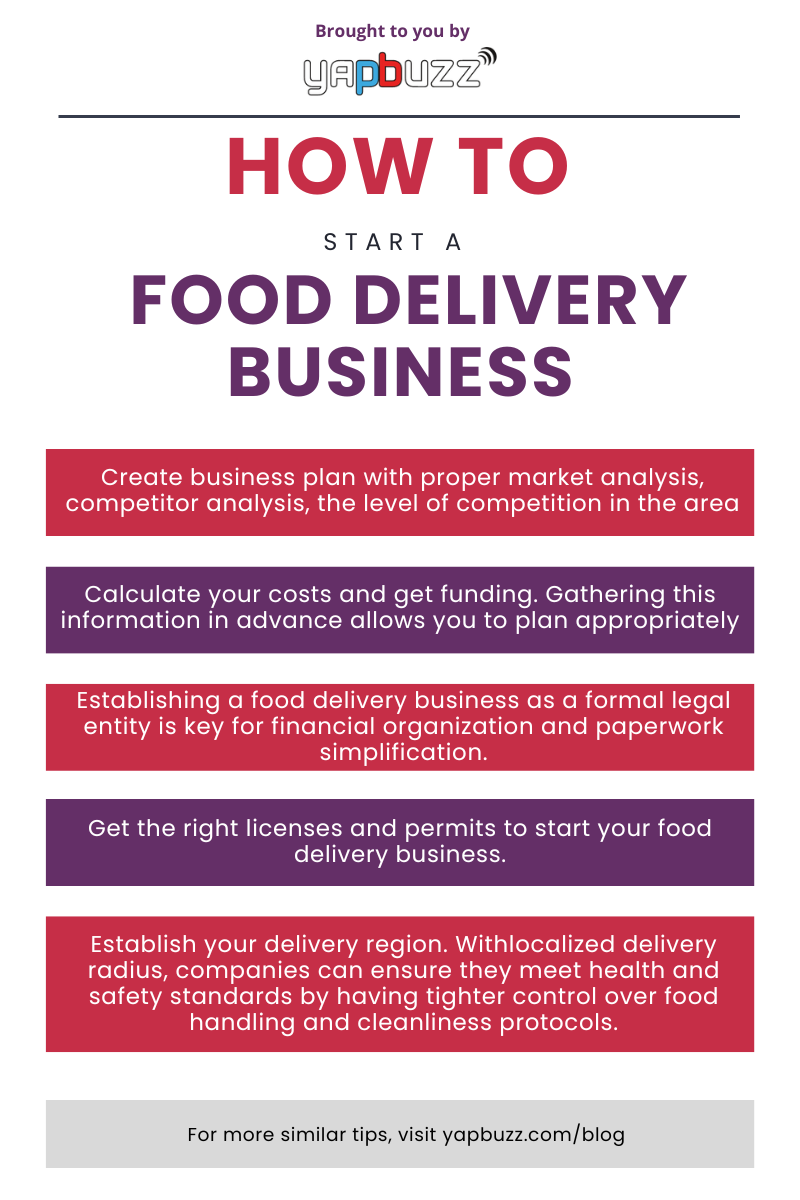 How Can YapBuzz Help In Launching Your Food Delivery Business?
By partnering with YapBuzz, a reputable mobile app development company, for our food delivery business development, we can leverage the expertise and experience of a team who has successfully provided many international brands with digital solutions. We can build the optimal solution from scratch to ensure that it meets all your business needs in launching the food delivery business.
YapBuzz's expansive portfolio can provide cutting-edge features such as workflows and automation that will streamline operations and boost efficiency. Plus, services like SEO optimization will draw more people to your food delivery platform. In short, their custom-made solutions promise desirable outcomes along with additional benefits.
Conclusion
If you're looking for a business that is growing and in high demand, starting your own food delivery business may be the perfect opportunity for you. With our tips and advice, you can get your business up and running in no time. So what are you waiting for? Start your own food delivery business today!
Somnath Halder
|
January 4, 2023
Somnath is an expert in Digital Marketing with 3+ years of experience in SEO, Facebook leads, and Google PPC, he loves talking about content creation, SEO, and Link Building.