Digital marketing is now a need for everyone running a small or local business. This offers small business owners an outstanding opportunity to benefit from the same advantages as larger companies without the hefty associated costs.
By investing in their digital presence, small business owners, and entrepreneurs can build brand recognition, create brand loyalty, drive increased sales opportunities, and achieve a competitive advantage over their competition in a shorter period of time. 
Digital marketing is an integral part of every effective business plan now; neglecting it can have drastic effects on success and growth potential.
In this blog, we give plenty of ideas for expanding your small business and catching the attention of potential customers, whether you're not sure where to start or you're out of inspiration.
The Fundamentals Of Digital Marketing For Small Business
Digital marketing for small businesses is an area of critical importance in the modern world. While it can seem overwhelming at first, a basic understanding of digital marketing tools, strategies, and plans will make for a very approachable topic. Digital marketing generally refers to any form of advertising that reaches potential customers online. This could include anything from social media posting and email campaigns to search engine optimization (SEO) and paid Google ads.
As a small business owner, it's important to have an understanding of each of these potential outlets in order to reach your desired audience with the message you'd like to deliver. Creating a basic digital marketing plan is extremely easy; identify what your goals are for reaching customers, plan how you'll use different digital outlets, align your budget accordingly, then put everything into action! Digital marketing doesn't have to be intimidating - with just a little bit of research and strategic planning, you're well on your way to making positive progress in this area!
Role of Digital Marketing In Today's World
This form of marketing uses devices to spread information about a commodity, service, or brand.
Digital marketing plays an invaluable role in expanding all types of businesses. It is a key tactic used to spread brand and product awareness, helping businesses get in front of more customers and, ultimately, drive more sales. This increased visibility drives business growth which leads to greater success and revenue opportunities.
Investing in the right digital marketing strategies should be the cornerstone of any business's long-term goals– it assures that your message will be widespread and seen by potential customers wherever they may be.
Benefits Of Digital Marketing For Small Business
Digital marketing is a valuable tool for small businesses looking to gain a competitive edge in today's ever-evolving marketplace.
Here are some benefits of digital marketing:
1. Target Local Customers
Targeting local customers through digital marketing is a great way for small businesses to expand their reach. It allows them to leverage the tremendous power of the internet, giving them an opportunity to get in front of a much bigger audience than just their immediate location. By setting up effective online advertising campaigns targeting potential customers in these areas and coordinating with current businesses where you have a presence, you can tap into new sources of revenue.
As the world continues to digitize, it becomes ever more important that small businesses do not neglect their digital presence and instead make use of all available methods to grow their customer base and profits.
2. Higher Conversion Rates
Conversion rate is a statistic that measures the percentage of website visitors who take the desired action.
Higher conversion rates mean more visitors completing your desired goals, such as clicking on a call-to-action or making a purchase. With the right strategy, digital marketing agencies can use their expertise across disciplines like SEO and content creation to analyze faster analytics and draw up an effective approach quickly. This will result in higher conversions as well as an increase in revenue for your business that is unparalleled.
Higher conversion rates along with increased sales and customer loyalty are all the hallmarks of a successful business. As such, regardless of the type of business you have built, the primary purpose is to generate sales leads in order to promote your products or services. Methods for generating sales leads can come in various forms, however, online advertising and digital marketing strategies often yield the best results. When done correctly, these tactics should lead to more target customers and convert them into paying customers - ultimately leading to conversion rate optimization with the right strategy.
3. Reach More Targeted Customers
Achieving more targeted customers has never been easier for startups and small business owners thanks to the possibilities of online marketing. A modern understanding of digital development means that millions across the globe rely on single or multiple online platforms to get information about many of their daily needs, such as services and products. 
A digital marketing agency can be invaluable to any organization keen on furthering its reach in terms of achieving more targeted customers. Through content marketing, organizations can reach new audiences through high-quality key information for better visibility. By investing in e-mail marketing campaigns, companies can make sure that their messages are reaching their target audience every time. 
A proficient digital marketing agency would be able to bring all these techniques together into one complete strategy for a successful result.
4. Increased Revenue At A Low Cost
Startups and small businesses often face difficulties when it comes to marketing due to their limited budget. However, there are ways for them to cut back on expenses while still obtaining higher revenues with minimum cost. They must focus on exploring effective and inexpensive techniques such as utilizing the power of social media marketing platforms or tailoring the ad to target interested audiences. By doing this they can easily engage with potential customers and clients which can help them grow their business further.
By targeting potential customers through digital channels, businesses are able to ensure sales success, while completely eliminating the risk of wasting time and resources. Higher revenues with minimum cost are the main advantage of using digital marketing - this highly efficient strategy opens up a world of opportunities for businesses interested in increasing sales and profits.
Best 8 Digital Marketing Strategies For Small Business
Here are 8 digital marketing strategies for small businesses: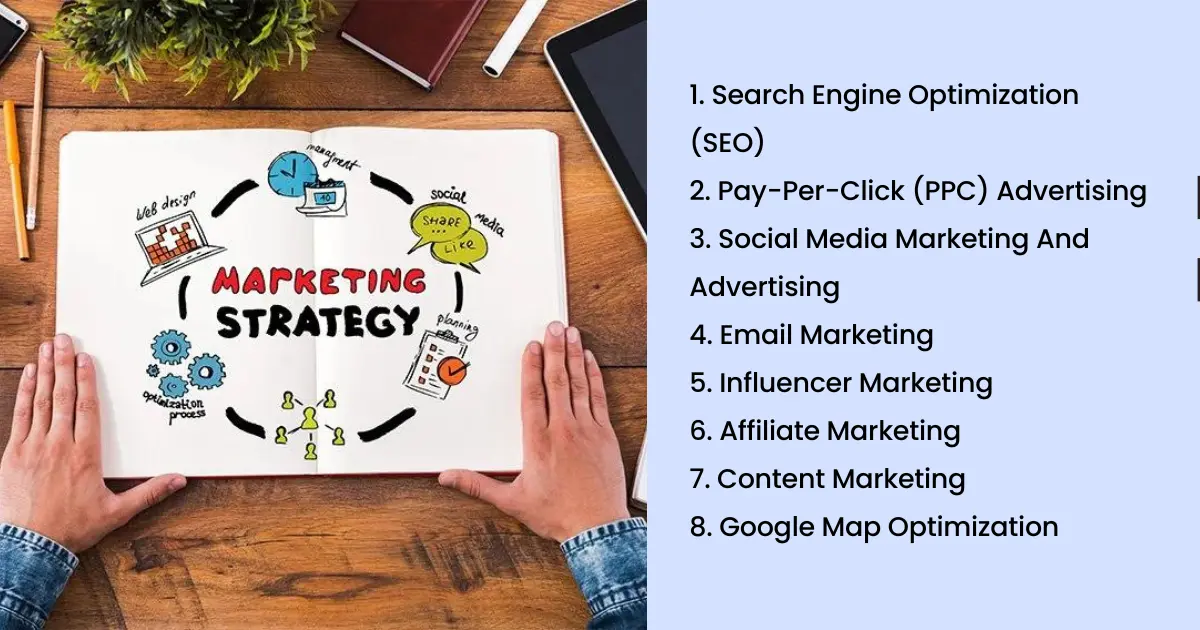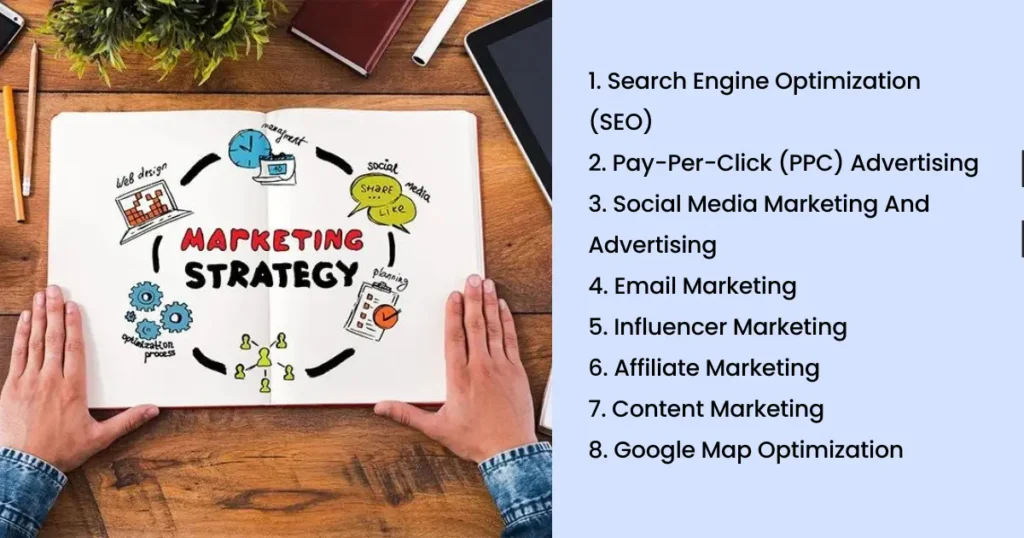 1. Search Engine Optimization (SEO)
Search Engine Optimization (SEO) is an integral part of Digital Marketing Strategies. It involves optimizing websites, blogs, and content to appear higher in search engine rankings organically. Leveraging effective SEO techniques such as keyword research and internal linking can help boost your website's visibility on the web and create a positive user experience for visitors. With digital marketing Strategies expertly combined with SEO, businesses can make sure they are getting the most out of their online presence to reach their desired audiences.
2. Pay-Per-Click (PPC) Advertising
Digital marketing strategies are constantly evolving, and the trend toward pay-per-click (PPC) advertising is becoming increasingly popular. PPC offers businesses the unique opportunity to target their desired consumer base by leveraging platform-based advertising on search engines, websites, and social media outlets. This form of targeted pay-per-click advertising can be extremely cost-effective, as businesses only have to pay for ad installation when someone actually clicks on an advert.
PPC is increasingly being used to increase brand awareness and acquire more leads or conversions in sales. If a business is looking to catch up with the changing digital landscape, implementing a PPC strategy should certainly be considered.
3. Social Media Marketing And Advertising
Digital marketing strategies and social media are valuable tools for any business looking to reach a global customer base. Through the use of creative, effective techniques on major social media channels, businesses have the opportunity to reach a broader audience, increase engagement with their brand, and create greater demand for their products or services.
Digital marketing and social media advertising can provide an efficient but powerful way to build an online presence that results in higher conversion rates and revenue increases. 
4. Email Marketing
Email marketing is an effective digital marketing strategy that can help you reach a wide audience. With email campaigns, you can create personalized emails based on customer data, so potential customers can be provided with relevant offers and subjects that are of interest to them.
Tools such as segmentation and automation will help to make sure the right message gets sent to the right people at the right time. You can measure results in real time in order to refine future strategies for maximum effectiveness. If done correctly, email marketing can be an instrumental part of your overall digital marketing plan.
5. Influencer Marketing
With access to millions of potential consumers, influencer marketing has emerged as one of the best methods for gaining valuable customer insights and increasing public engagement with products or services.
The combination of organic word-of-mouth strategies from notable industry figures in addition to an increase in influencer-generated content gives marketers unprecedented opportunities to reach their target audience, allowing campaigns to tap into help business growth through effective digital marketing strategies.
6. Affiliate Marketing
Affiliate marketing is an efficient and cost-effective digital marketing strategy that enables companies to leverage their networks to drive sales and create brand awareness. Companies recruit affiliate partners to bring potential customers to their websites through referral links, promotional campaigns, or sponsored content on social media sites. By providing incentives such as commission-based rewards or exclusive discounts, businesses can grow the reach of their product or services with minimal effort on their part. Thus, affiliate marketing has proved itself to be a powerful tool for many marketers looking to boost their online presence.
7. Content Marketing
Content marketing can be a valuable tool for helping businesses gain the visibility and attention they need in order to grow. Content marketing involves creating content for the intended audience of a business or product that helps them solve their problems while also raising awareness of the company.
Content marketing typically includes articles, blog posts, e-books, white papers, infographics, and brochures. Guest blogging is an effective method of content marketing that allows businesses to further increase their visibility in the marketplace. By writing informative pieces for industry-relevant websites companies can leverage the existing audience of these outlets to expand their reach.
Content marketing greatly enhances any online presence and should be considered an essential element in any digital marketing strategy.
8. Google Map Optimization
Digital marketing strategies are constantly evolving, and this means that businesses need to stay up to date with current best practices. One technique that many organizations overlook is Google Map Optimization. It involves adjusting settings such as business location and other information to ensure that users can easily find a business near them.
Furthermore, it may also involve adding photos or videos of the business, providing hours of operation and additional contact details which can help to create trust between customers and businesses. All in all, Google Map Optimization is a powerful tool that should be added to any modern digital marketing strategy.
How To Do Digital Marketing In Your Small Business
These are some essential steps that should be taken in order to ensure success and maximize the impact of your online presence.
1. Get To Know Your Customers
Speak to your customers to gain insights into their needs, wants, and value perception. Understanding what drives them can help you build a better customer experience overall, which increases the likelihood of success for your marketing efforts. Not only that, but talking to your customers objectively and gathering data based on their feedback is arguably the most effective way to build a long-lasting and successful relationship with them. Investing time in speaking with people who are already on board as well as those who might be interested in hearing more can reveal valuable information and make an impact on how your audience perceives you, creating a lasting impression.
2. Analyze Your Competitors
Researching your competitors is essential when running a local business. Through research, you can understand exactly how to differentiate yourself and offer additional value in the market. Google Search is an excellent place to start – this will allow you to research what kind of ads your competitors are running, and discover ways in which you can appeal to potential customers. Researching competitors not only enables you to distinguish yourself from them but also allows you to have a deeper insight into the market and adjust your strategy as needed.
3. Optimize Your Website
As customers continue to be in charge of their experience, they're expecting more and more from websites. Being able to load quickly and being user-friendly are the bare minimum requirements these days. Your website should flow naturally with visual impact and user experience being a priority; making sure that you maintain a balance between the two gives your visitors an enriched experience. Each page should be well organized with effective use of clear messages and images to quickly capture their attention. As a result, people stay longer, learn more about you, and may decide to take some kind of action – such as visiting your blog or subscribing for updates.
4. Improve Customer Reviews
As a small business owner, your online reputation is essential and might influence a potential customer's decision when they search for your goods or services. Making sure you improve customer reviews from various sources will show potential customers you provide an exceptional quality of service.
It's essential to cultivate effective relationships with clients and monitor the public sentiment around your brand on a regular basis - that way, you give yourself the best chance of creating a long-term connection with customers who find value in your services or products.
5. Provide Engaging Blogs
If you want to be successful in a competitive industry, it is essential to set up a content strategy that works for you. Although it may seem impossible to rank on the first page of Google for broad terms like "beauty salon texas city" without prior knowledge or experience with SEO, there are ways around this.
One way to ensure your success is by providing engaging blogs related to your business which can help raise your ranking on the organic search engine results page (SERP). You will be able to make yourself more visible and ultimately stand out from the competition.
Common Mistakes To Avoid In Digital Marketing
This list highlights some common errors that you should stay away from in order to reach your goals and objectives successfully.
1. Duplicate Listings
One of the more common mistakes is duplicate listings, which can lead to confusion and loss of business. Although having your listing show up in multiple places online may seem like a good idea for boosting visibility, it could actually hinder customer engagement and loyalty when customers find different information listed elsewhere. It's important to take the time to keep all your listings consistent across multiple websites so that customers know exactly where to go for accurate and reliable information regarding your business.
2. Avoiding Social Media
Avoiding social media can be detrimental, as social media platforms such as Facebook, Instagram, Threads, and Twitter are necessary components in helping to turn leads into actual customers. It is important to spread your content across these different platforms to reach a larger audience, foster engagement with users, and ultimately promote your business. 
Ignoring or underestimating the importance of social media could lead you to miss out on advantageous opportunities.
3. Not Considering About Mobile Users
As digital marketing becomes a rapidly growing industry, it's increasingly important to ensure that your site is optimized for both desktop and mobile users. Common mistakes made when optimizing for mobile include not paying enough attention to load time and failing to adjust the design for better visibility on handsets. Mobile browsing now accounts for about half of web traffic worldwide, so it's essential that we take it into consideration when optimizing sites. Investing the time needed to optimize your site will ultimately lead to positive results in the long run - users should be offered a seamless experience regardless of what device they choose to use.
4. Not Offering Discounts And Promotions
A survey "Retail Me Not" showed that two-thirds of customers often make an unplanned purchase due to discounts or limited-time offers. By investing in a pop-up with a coupon code or limited-time offer as soon as your customer lands on the homepage, you're attracting their attention and leading them towards making an impulse buy. Don't forget to add a call-to-action that includes some kind of promotion on top of that discount to really seal the deal!
5. Targeting Broad Audience
When it comes to digital marketing, it's tempting to try and reach a broad audience by throwing money at your campaigns. However, this is generally an inefficient use of resources and won't bring in the most valuable leads. To get the best return on investment, it's important to identify a clearly defined target market and focus your budget on reaching them successfully.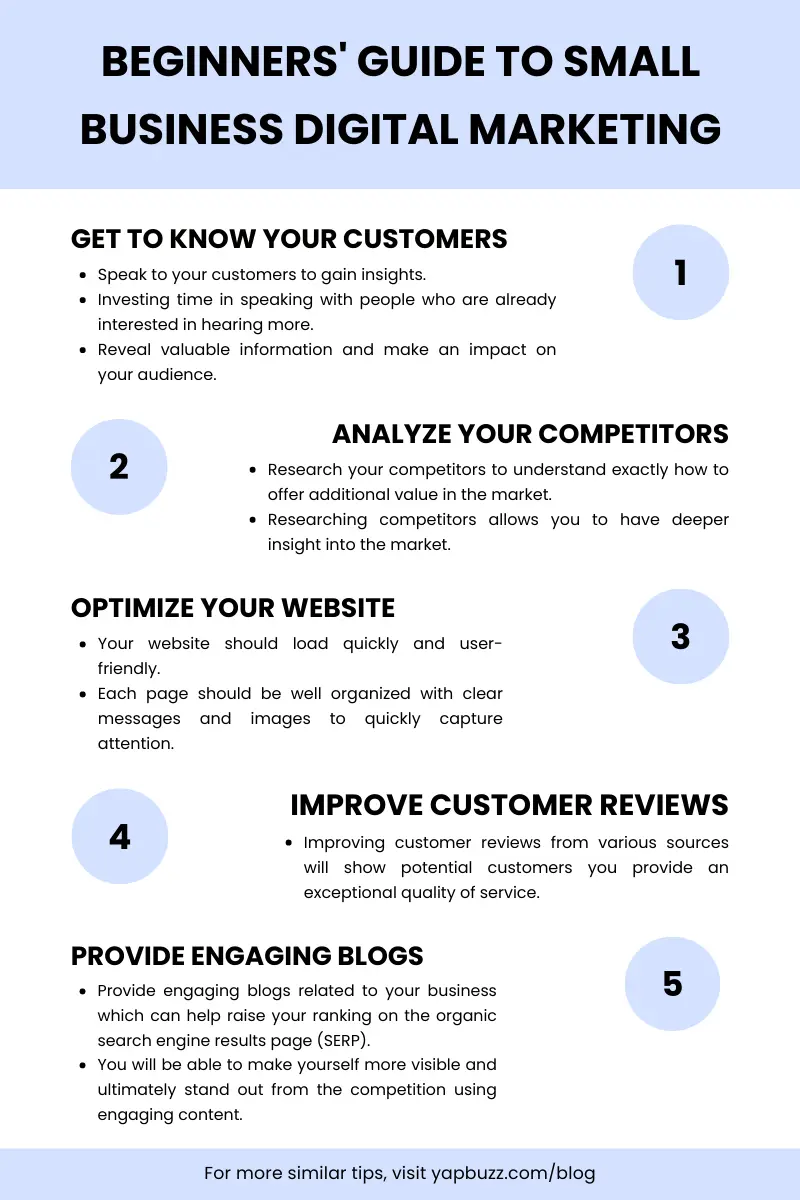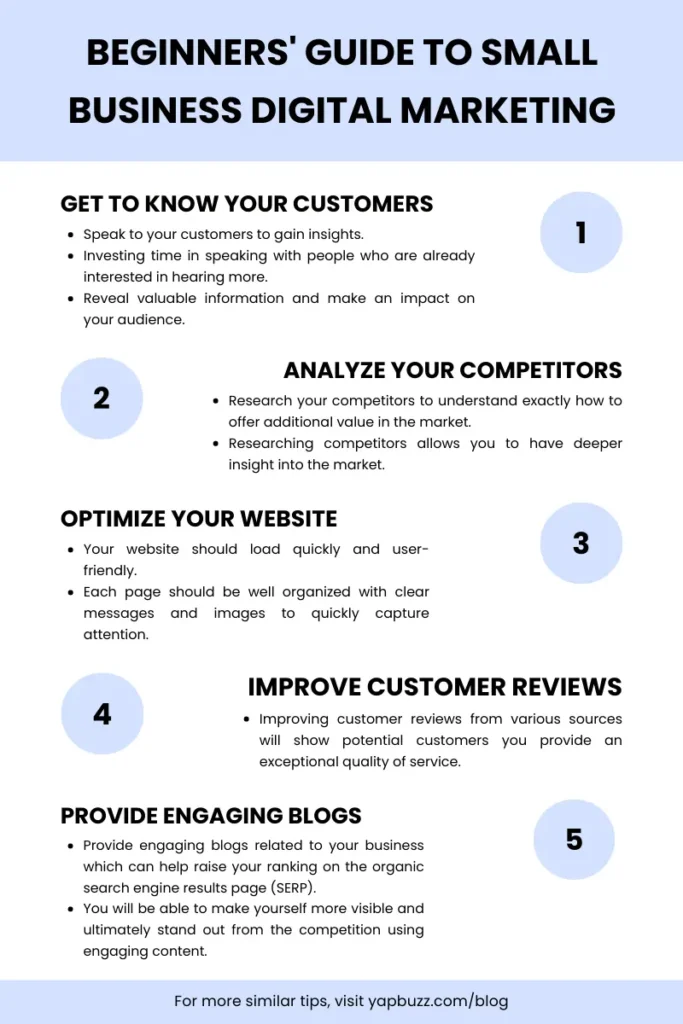 Conclusion
No matter how small your business is, you need to have a plan for your digital marketing. You can't just throw up some weak content and hope that it will generate leads--you need to be strategic about who you're targeting and what type of content will interest them. The good news is, once you have a solid plan in place, Digital marketing can be easy and even fun!
If you found the article useful, please be sure to share it with your friends and colleagues!
Prabal Dey
|
December 19, 2022
Prabal is the founder at YapBuzz. For the past 20 years, he has been working in a diverse field of web and mobile technologies, both for large companies such as McDonald's, Skechers, etc. as well as exciting startups such as Docebo.